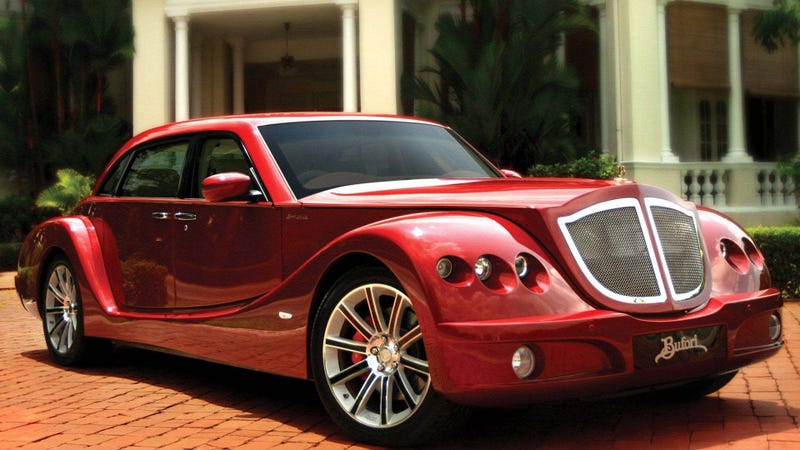 This is Cars You Didn't Know About, the feature where I show you some rare and unusual cars that never quite made it into the limelight. In today's edition, we'll be discussing the Bufori Geneva, a handbuilt ultra-luxury saloon made by an Australian company based in Malaysia.

The Bufori company was started in the late 80's by three brothers, with the name being an acronym for "Beatiful, Unique, Funtastic, Original, Romantic, Irresistible". Their first cars were inspired by 1930's roadsters, some powered by rear mounted Subaru Boxers, and others by a front mounted Buick 3800 V6. In 2010, however, they unveiled this at the Geneva Auto Show.
Depending on the year, the Geneva gets its motive power from a 6.1 or 6.4 Chrysler V8 with either 430 or 470hp. Top speed is a claimed 174mph with a 0-100kph time of 5.4 seconds.
Bufori states that the car has a body made of a carbon-fiber/kevlar composite, with a steel frame underlying everything and riding on adjustable air suspension.
The interior is sumptuous if a bit plain-looking, and is most decidedly focused around the rear seat passengers. It boasts a huge array of amenities up to and including heated/chilled cupholders, a fridge large enough for four 1L bottles, a tea set, an integrated coffee maker, a humidor, a safe, and an "electrically opening mini bar".
The cabin is fully customizable with buyers being able to configure the center console with any of the above options, and with full control over the upholstery, woodgrain, and embroidery.
The rest of the car is very high tech, so instead of listing everything I'll just link you to their specs page.
Each Geneva is said to take 9000 man-hours to build. Bufori operates a 108-man facility in Kuala Lampur, with a capacty of 300 cars per year between their two models.
The other car they make is called the La Joya. It's powered by a quad-cam 2.7 V6 (of unspecified origin) mated to an Audi Tiptronic unit.