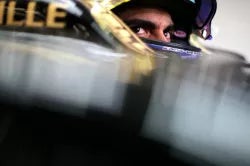 Uh Ok....
"When Pastor crashes, it's big news," said Maldonado. "When the other people crash, there is no news.
"To find the limit, you need to cross the limit. I think I have the big balls to cross the limit every time."
You have the balls to push the car over the limit until you crash or give someone else a puncture time and again.... yeah big cajones but no skill!! Skill pastor, skill is what you need to push it!
Please someone take away his license.