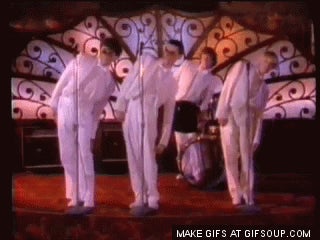 You know the game, normally applies to the opposite sex, but if you'd seen the announcer schedule for the AFC, NFC and the Super Bowl you'd realize we're in for a menage trois of pain (2015 Playoff Announcers)
Since this first round is a snooze fest lets start burning down the house with the worst of the worst the NFL has to offer for commentators, announcers and "Insiders".
Marry=Talking head would be on every football show, calling every football game you watch for rest of your life.
F*ck=Is the host of"your team's" recap/pregame show 1x a week
kill=Never on the air again. EVER.
The Dinosaur: Bumblin stumblin over his on words, Berman, right Boom?
The Bafoon: Chris Simms. No one has ever said less in so many words.
The Imp: Adam Schefter. Not since Napolean has someone of that stature thought so much of himself for so little.
Per "sources" an intern got fired for this snafu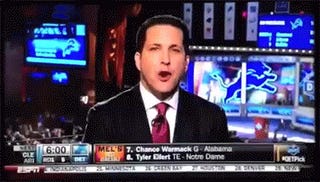 Ideally they'd all go grateful dead on us, but gun to my head here's what I'd do.
"Marry" Berman, he'll be dead soon anyway and its a schtick you can "put up with"
"Fuck" Schefter, 1 small dose, you can deal with. More than that someone's getting hurt.
"kill" Simms, THE ABSOLUTE WORST. Gets the best games, is the WORST on every level, calling games, prognosticating. Dude was terrible on the field and worse in the booth. How Phil got this gig over Namath is beyond me.
Side note, I'm rooting for the Bronco's this year because I think Peyton would retire if he won and he probably replaces Simms instantly.

PS Can someone please get Gus Johnson involved in the NFL playoffs?