In the wake of Matt Lauer's recent dismissal from NBC News amid sexual harassment and assault allegations, automotive industry observers have increased the estimated auction value of his 1968 Chevrolet cargo van by over 900%, expecting it to fetch at least $100,000 at auction next month.

Amid protests from numerous social justice and women's rights groups—who feel the proceeds should go to victims' funds—Lauer's legal team is planning to use the money to pad his defense against future allegations.

With the van's "Free Backrubs" still vaguely appearing on the side in faded spray paint, collectors feel the van has a certain authenticity to it. "With a van like this, it just oozes a sense of blue-collar work ethic," claims Terence Barker, Senior Vice President of eBay Motors. "Among other things, of course. We would love to see if Mr. Lauer would consider putting this up on our site. We expect the van, like Mr. Lauer himself, to have no reserve at all."
Lauer had planned to sell the van at auction earlier this summer as part of a charity effort, but has delayed his plans in the wake of the firing. Emails to Lauer's assistant, who shall remain anonymous, include comments like "Can we talk about you and my van re:Bareit & Jacksome?" When the assistant replied that she believed he meant Barrett-Jackson [auto auctions], Lauer replied "Sure, a BJ is a BJ."
Later that day, he emailed her claiming "This van is going to make Mecum this year no matter what," in reference to another high-profile auction house.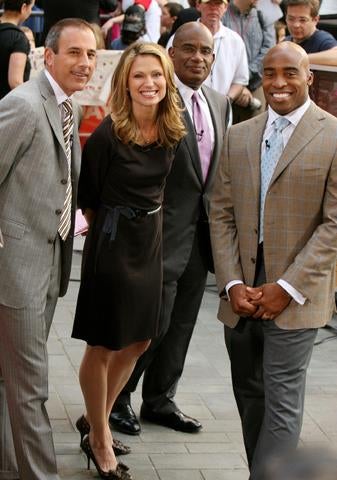 The van itself has been heavily modified according to Lauer's listing, including work by a team of electronics experts he nicknamed "The Skeet Squat." The cargo area is completely lightproof and soundproof to accommodate news production crews. A custom locking system allows the driver to lock all the doors with a single button on the console for extra security. And the manual transmission's shifter comes with over a dozen modular latex attachments for ergonomic comfort, including a manual to explain how to use them all.
Many industry experts are very critical of Lauer's auction plans, claiming the vehicle should be killed with fire, nuked from orbit, or donated to President Donald Trump's administration before itemized donations become illegal in 2018.
Roy Wort, founder of ShinyToyCar.com, believes that vehicles tied to such a notorious story as Lauer's should not be coveted, but shunned. "If he wants to give it to me," Wort said Friday morning, "I'll keep it in storage until this whole thing dies down. Right next to my Camaro."