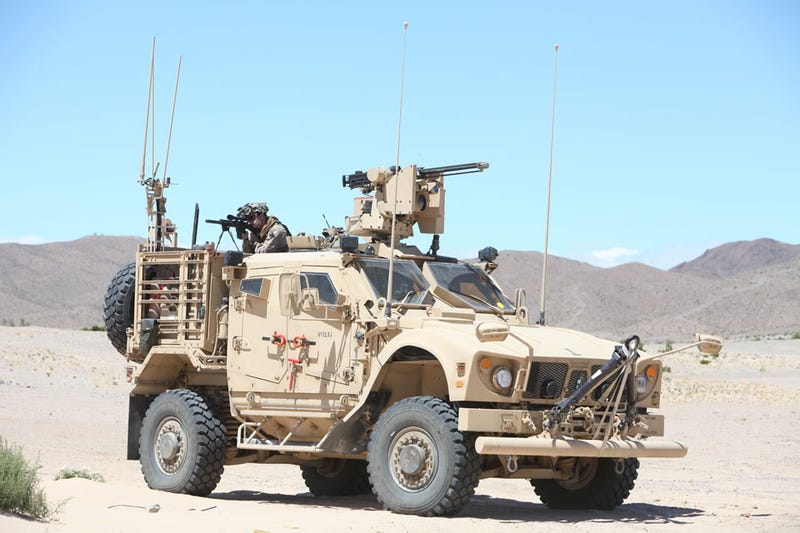 When I called for suggestions for things to write about (introduce to us newbies), I didn't get to many responses. 5 or 6 to be more exact. But one of those suggestions was from DanMosqueda. He said: "How about something unique and interesting to your local area?". My local area changes frequently being in the Air Force and all so I decided that I'll do a post about something local to my fellow service members downrange.
So that's where this comes in. The MRAP or Mine Resistant Ambush Protected vehicle. Honestly, I could probably just do a photo dump of this thing and you'd get how awesome this is. Just look at it. It's a beast! Imagine having that thing while driving through morning traffic in L.A.! Instead, though, I'll actually give you a little bit of knowledge about it. As well as a few pictures.
One of the cool things about the MRAP's is that there a few different variants (with their respective names) based on size. There are three categories of MRAP's. The first is the MRAP-MRUV. Mine Resistant Utility Vehicle (the military does love their acronyms). It has been nicknamed the Caiman 4x4 and was designed to be smaller and lighter and used in urban environments. Category 2 is the MRAP-JERRV or Joint Explosive Ordinance Disposal Rapid Response Vehicle. Designed to be convoy lead, troop transport or ambulance as well as used for Explosive Ordinance Disposal and Combat Engineering. This one is known as the Cougar 6x6. The third and final category is just the MRAP and is dedicated to clearing out mines and IED's and is known as the Buffalo MRV.
One of the cool things about the MRAP is it has no common design. They're all unique to the manufacturers but the majority have a distinct "V" shape hull to deflect blast coming from beneath them. The MRAP is a fairly new vehicle, entering service in 2007 and used mainly by the U.S. forces serving in Iraq and Afghanistan.
They can be blown up. A lot. Just look at that. I wouldn't want to be anywhere near it but I can see that it can do its job! Other than seeing how much damage they can take, imagine how fun 4-wheeling in one would be? I could see that being a damn good time!
So I hope you enjoyed this and please give me some suggestions on the next May I Introduce. It'll help me out and give me more things to learn and write for your reading pleasure.