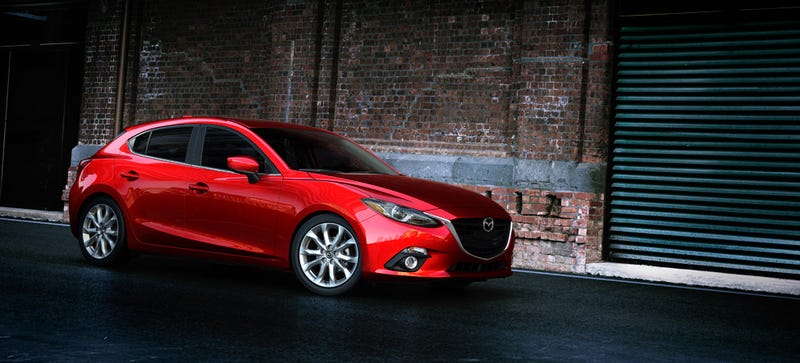 The critically acclaimed, newly redesigned, anti-beige 2014 Mazda3 is not selling well compared to the Corolla and Civic. Mazda is a small automaker and will never touch the sales figures of Honda and Toyota. The 3's problem goes a little deeper than the standard compact competition. The problem is the very philosophy that the Mazda 3 stands for…"performance."
O.k the Mazda 3 is not a real performance car, but it does appeal to people who need an affordable, all-around, compact that also adds some fun to the morning commute. According to Doug DeMuro, the reason the 3 is not selling as well as the Civic and Corolla is because most car buyers are too quick to buy what is comfortable to them. But Doug owns a Ferrari, a Nissan Cube, as well as a Range Rover and has been known not to wear pants, so I'm not sure he really understands the perspective of "regular buyers." (kidding Doug).
If you look at some historic sales figures the new 3 it is not too far off track.
| | | | | | |
| --- | --- | --- | --- | --- | --- |
| Month | Mazda 3U.S. Sales 2010 | Mazda 3U.S. Sales 2011 | Mazda 3U.S. Sales 2012 | Mazda 3U.S. Sales 2013 | Mazda 3U.S. Sales 2014 |
| January | 7368 | 5015 | 9200 | 8074 | 6234 |
| February | 8215 | 8077 | 11,275 | 10,544 | 7286 |
The last time Mazda did a major redesign of the 3 was in 2010 and now we have a brand new body style for 2014. When you factor in the rough winter that has impacted overall sales in addition to the excessive inventory of '13 models across all brands that are being sold with heavy discounts, the '14 3 is selling pretty similar in the first two months as in 2010.
But Doug was right about one thing….the number of really good cars that compete with the Corolla and Civic. These cars are the ones creating problems for the 3. What is great about Mazda is they refuse to play the beige game, the 3 is not for the people who want a compact that is nothing more than an appliance. The 3 appeals to us, the Jalops, now the thing with us is that we are not your traditional cross-shoppers. We want to get the most fun for our money, and this is where the 3 is getting outclassed.
A Mazda 3 5-door SV (2.0 SKYACTIV) with a 6MT has an MSRP of 20,040. A Ford Fiesta ST can be optioned with the same minimal equipment for 21,475. Yes, the Fiesta is a smaller and is really a different class of car, but 190hp for under 22 grand is hard to pass up. Now if you want to upgrade to the larger 184hp 2.5 SKYACTIV and get all the bells and whistles you are looking at a 2.5 Grand Touring for 27,590. This is where I find things to get a bit ridiculous, especially since MSRP on my 2010 3s 2.5 GT 6MT was about 24k. A Focus ST, same size as the 3, starts at under 24k, a VW GTI goes for around 26k. Those are some serious performance alternatives. But let's say you didn't want to get that extreme of a hoon machine, a Dodge Dart GT with a 184hp 2.4L engine 6MT optioned with practically everything will only set you back only 23k.
It seems that while Mazda was aiming for the Jalop crowd they were shooting at the Corolla and Civic and not the driver oriented alternatives that are on our radar, but not necessarily on the shopping list of the average buyer.
@AutomatchTom is a professional car buying consultant, lover of all things automotive and a bit wagon obsessed. You can find more ramblings and plenty of carporn here.