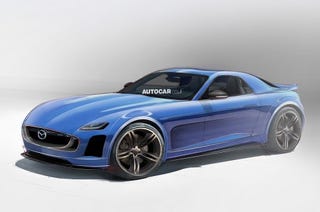 The iconic Mazda two-seat coupé is set to be reborn in 2016, powered by a 250bhp rotary engine
The Mazda RX-7 will be resurrected as a lightweight and agile two-seat coupé, powered by a new-generation 250bhp rotary engine, with a launch date of 2015 to 2016 already pencilled in.
The sporty coupé has yet to be signed off, but its rotary engine is under development and the project is being planned as a platform derivative of the new, lightweight MX-5, due in 2015.
Officially, Mazda's line on the new RX-7 is "no concrete plans" but, privately, executives admit that the car and a new rotary engine are under development and that a launch date has been included in Mazda's long-term product plan, publicised at the Tokyo show as 'five new cars by the end of FY [financial year] 2016'.
The look of the RX-7 will follow the same simple design philosophy as the new MX-5. Mazda sources confirm that RX-7 work is going on in advanced design but the final shape has yet to be made into a production-ready form.
The work is being done under chief designer Ikuo Maeda, whose father was head of design at Mazda in the 1970s when the original RX-7 was created.
Maeda says he doesn't "yet know what a new coupé should look like". But he jokes: "I want it built before I retire!"
The RX-7's new rotary engine is being planned as a normally aspirated unit. Mazda recently showed a new, compact 330cc single-chamber rotary engine at a Tokyo technical event that showcased a Mazda 2 EVwith a rotary range extender.
Autocar understands that a production RX-7 would feature a conventional powertrain to keep costs down.
According to global marketing chief Masahiro Moro, finding the business case for a new coupé is already proving tricky. "I just don't see the right numbers in the equation yet," he said.
Despite this, Mazda continues to develop the rotary engine and Autocar understands that the RX-7 engine's capacity will be a more conventional size, possibly about 600cc per rotor, slightly smaller than the RX-8's 654cc-per-rotor unit.
It is undecided yet whether the new RX-7 engine will be a twin or triple-rotor, although one source suggests that a twin-rotor unit is most likely.
That would give the new RX-7 a capacity of 1.2 litres, equivalent to about 2.4 litres of swept capacity in a conventional combustion engine.
Power output, fuel efficiency and reliability are expected to be improved. Mazda engineers report that the latest tip-sealing tech — historically, a tricky detail to get right — is continuously improving.
That will allow tighter clearances between the rotor tip and housing, increasing the compression ratio, with a welcome improvement in thermal efficiency.
Sources suggest that the power will be below 300bhp and that about 250bhp might be expected. Given the potential rivals — such as the next-gen Toyota GT-86 and next-gen Nissan 370Z — the new RX-7 will have to deliver performance by blending a relatively low power output with a lightweight chassis.
The RX-7 will be helped by its lightweight rotary engine, which typically has a higher power density than in-line units.