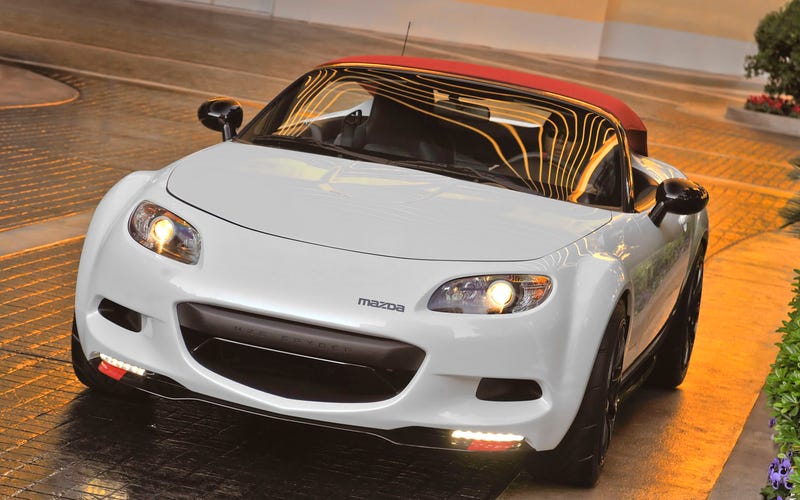 If the answer is always Miata, Insto-Facto, the answer is always Mazda. You know for it to be true. Building RWD roadsters and rotaries, what's not to love?
Mazda builds cars to satisfy the enthusiast. There aren't very many of us left in today's world but Mazda doesn't care if there's just one of us left. Truth be told, Mazda has been losing money the past 5 years, only to finally come back in the black this year. They spent alot of money, single-handily researching and creating the super efficient Sky-Activ engines that nearly ruined them financially.
Even when creating the Mazda 6, they benchmarked it against the likes of a BMW 3 series, Audi A4, and the VW Passat! Mazda also looked at the lesser beings such as the Altima, Camry and Fusion but Mazda wouldn't let their engineers drive it because, "Your senses get dull." If that's not awesome, I don't know what is...except maybe this.
The Miata was unveiled at the 1989 Chicago Auto Show, aimed squarely at the enthusiast. And guess what? It still has a large following that can't get enough of it. There is no other car in the market that can equal the Miata in terms of bang for the buck fun and pure driving bliss. I've borrowed someone's Miata and autocrossed it once...At that moment, all my worries, thoughts, and emotions went out the window. I was living in the moment and it felt great!
When Mazda was developing the FC RX-7, they were aiming at building a car that would surpass Porsche, "The perfect sports car that exists within everyone's heart- a sports car for a liberated adult." With the FD, they wanted, "Beauty within the Beast." The RX-8 was canned but Mazda has made it clear that their intention is to bring the rotary back.
Mazda also won the 24 Hours of Le Mans in 1991. To this day, Mazda is the only Japanese Manufacturer to ever win at Le Mans.
Mazda also makes some badass working concepts. Remember the Furai when it still walked the earth?
Even their small econo sub-compact Mazda 2 was given the sporty treatment. Engineers tried to trim fat everywhere they can, leading to a weight loss of over 200 lbs compared to the previous generation sold overseas. Mazda's sportiness knows no bounds, hell, Mazda could probably make a semi feel like a GT3 racecar if they wanted to.