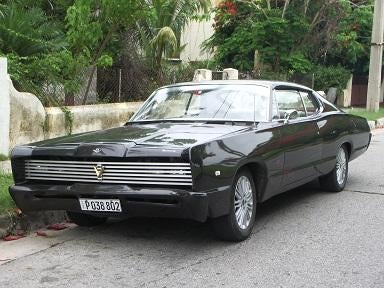 Now that I can post here, this was intended to be my first post from back in August. The ad is still running, so here you go:
Somehow this 1968 Mercury Monterey two-door hardtop ended up in Cuba despite being built eight years after the embargo; although I'm sure that's a story in itself, the ad for it on revolico.com (Cuba's version of Craigslist) only mentions that it's the only one on the island. Like so many other Yank tanks it hasn't escaped modification; besides the badass front end treatment (headlights glowering behind a tube grille with a '58 Plymouth V-emblem) and 17" wheels, the ad says it has Mercedes brakes. However, it still has its 400-cubic-inch FE V-8; also a 3-speed standard transmission which, if it were original, would be near-unobtanium for a big Merc.
Price? About $16,000, but only if you're a citizen; otherwise, gringo go home.
Ad: http://www.revolico.com/autos/carros/m…