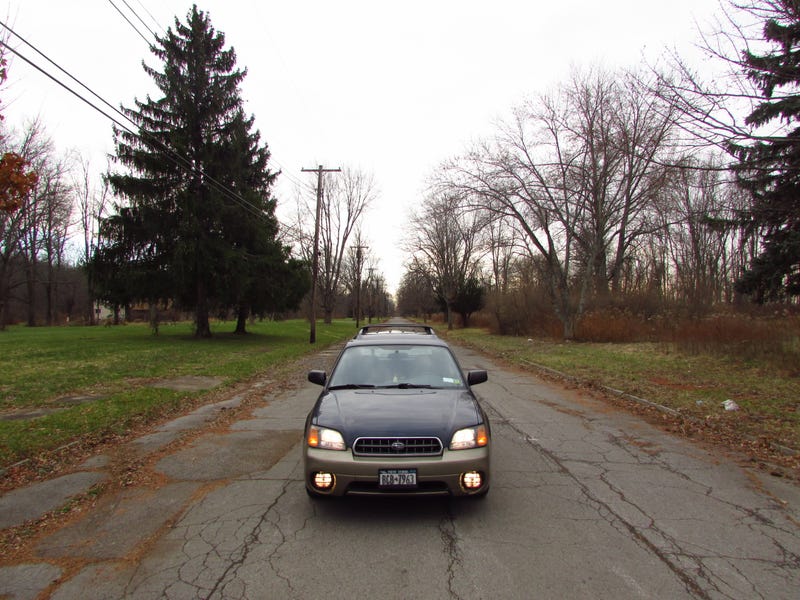 Above and below: Pictures of 101st/102nd streets in Niagara Falls. Both still exist as they are not directly on top of the canal, but are still largely abandoned. Essentially there's a 1970s neighbohood here with grid-pattern streets, but no houses (well...a couple houses. there's a few people who still live in their old houses on this land).
Below are pictures of the canal itself. If you're not familiar with the story of Love Canal it goes like this:
Man named William Love tries to dig a canal connecting the Niagra River to Lake Ontario, thus routing around Niagara Falls. Project ultimately fails, and the unfinished canal becomes a swimming hole.
As the city of Niagara Falls industrializes, the canal becomes an impromtu dump site for toxic waste in the early-mid 1900s. The industy puts a bunch of metal drums full of chemical waste in the canal, then fills it in with dirt.
In the '50s, the land that was once the canal is sold to the city of Niagara Falls for $1. Knowing that it's extremely polluted, they say "screw it" and build suburbia (complete with a school) on top of a toxic waste dump.
The metal drums buried in the canal rust, and leak chemicals into the neighborhood. This causes severe health problems for the residents who unknowingly bought houses on some ridiculously terrible property. By the 1970s, they're understandably furious, and begin a grueling fight with the city and the national government to get off their forsaken land. (They couldn't sell their houses to be able to afford getting out).
Eventually Jimmy Carter steps in, and the whole neighborhood, save for a few houses and streets not directly on top of the canal) is demolished, and the land refurbished with a non-permeable layer of material and pumps to keep the pollution from spreading or contaminating groundwater. (google this story more, it's really worth reading about)
Which then leads us to this huge abandoned chunk of land right in the middle of Niagara Falls.
(fenced in area is the actual canal) There used to be an entire neighborhood here 40 years ago
Below is what's left of 99th street. This would have gone right through, the canal, now it just abrubtly dead ends at the fence
This is another street which reaches a similar conclusion, although I don't know which one it is, as it's not a part of the grid pattern (it curves)
Next up is 100th street, which unlike 101 or 102nd, is completely abandoned and blocked off to vehicles, but not within the canal's confines.
And then we have this curvy street that would have bisected a setup of apartment complex 40 years ago
This parking lot is part of the complex, but now (bafflingly) serves an active park/playground.
And then you have a whole system of abandoned driveways nearby, which lead to nowhere. These would have connected the apartment buildings together
The best part is that the whole place still smells. When you get up to 99th street, you can smell the canal.
Really drives home this history of the place