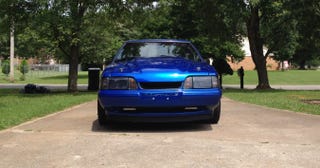 My business partner Waymoe, directed me to this site a few weeks ago. Check out these true Jalops and what they are doing with a truly bad ass Mustang:
Foxy is our race car. Brad and I bought her in July, and even though she hasn't seen a race track yet, she's taught me a lot about racing.
Who is Foxy?
Foxy is a 1993 Mustang LX, or a "Fox body Mustang," as this generation is known. She's very heavily modified, with her 5.0 engine bored and stroked from 302cid to 347cid with a nice cam. She's got tons of aftermarket parts from Trick Flow headers to coilovers. She's the most perfect Fox Mustang we'd ever seen. Her interior is clean and her engine bay is cleaner. The best thing about Foxy is how she sounds, though. When we drive Foxy, random people roll down their windows and shout at us, "Your car sounds amazing!"
Why we chose Foxy
Because Brad and I have never wheel-to-wheel raced automobiles, NASA, the racing organization we're planning to race with, will require us to spend a year or two in their HPDE (high performance driving education) to earn our competition licenses that we'll need to race on the track with other cars. Street cars are allowed in HPDE, and I had initially thought we could use my BMW Z4 M Coupe. However, once we realized how much it would cost to keep the BMW in brakes, tires and other wear parts with regular track use, we thought it would make more sense to find a dedicated, street legal track car with cheaper parts. And it doesn't get much cheaper than a Fox Mustang. Foxes are rear wheel drive, V8 cars that are easy to work on, with an extensive knowledge base available online and dirt cheap parts.
Foxy, in particular, was a very special Fox. Brad and I had a hard time finding cars that weren't beaters with a few aftermarket parts thrown at them. Or on the other extreme, expensive, non-street legal, fully built race cars, which were more than we needed and required a truck and trailer to get to and from the track. Foxy was the Goldilocks of track cars. She was owned by an aerospace engineer outside of Huntsville, AL. While not every single thing on the car had been upgraded, everything that was done was done correctly. Especially that glorious engine. In the end, at the price Brad negotiated for the car, we basically bought an engine and the Fox Mustang was free!
This is where I start learning things
When we bought Foxy, we knew there were going to be a few things we'd have to do before we got her on the track. Those things were:
A dyno engine tune
An alignment
Properly sized wheels and tires
Then we drove the car and found the clutch engagement point was really high and the brakes pedal had a lot of travel. We jacked the car up, put on new 17 x 9 wheels and discovered we'd need to pull the fenders to get the wheels to fit. We also discovered there was a bunch of play in the steering wheel. We started investigating under the car and reading online and found we had a lot more work to do to get the car ready for the track. I realized then that race cars are like old houses. They surprise you. You think you're getting a place that needs some paint and new flooring, and then before you know it you're replacing the whole HVAC system. Except houses cost more than old Mustangs, and after you spend thousands of dollars you have a place to live that won't kill you. With Foxy, we're spending hundreds of dollars and we get a race car that won't kill us!
Three months later, we've identified the following projects that will need to be done to get Foxy on the track:
Steering rack
Shifter
Race seats
New wheels and tires
Front wheel spacers and pulled fenders
Hood vents
Radiator
Alignment and suspension adjustments
Dyno tune
Rear brakes
Master brake cylinder
Roll bar and door bars
Driveshaft loop
Clutch cable
Rear suspension upgrades
So far, we have completed:
Radiator
New wheels and tires
Dyno tune
Shifter
Buying lots of race car parts off the internet
While I'm disappointing that I haven't taken Foxy to the track yet, with each project we identify, I learn why each component is an issue and more about how to set up a race car. And that was exactly my hope for Foxy. She's are starter race car! Although I still can't wait to get her out on the track.