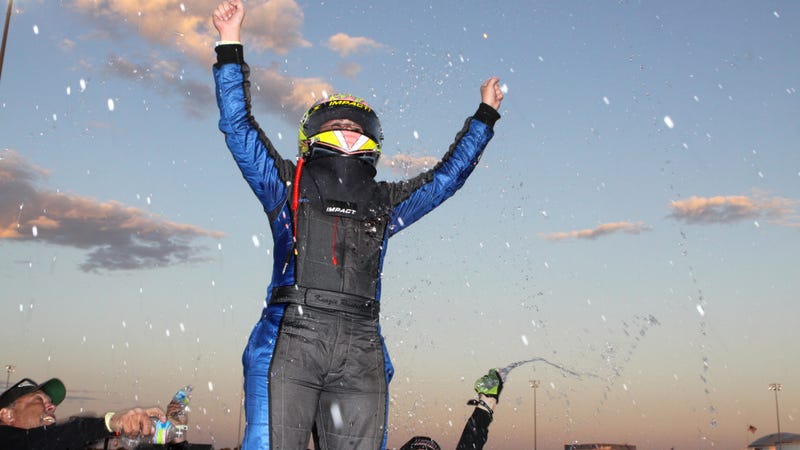 In all likelihood, you've not heard the name Kenzie Ruston. However, in just three K&N Pro Series East starts, she has two top fives, and she sits fourth in the championship, just one point out of what would be a three way tie for second. If not for struggling in qualifying in the season opening race at Bristol, she could very well be leading the series championship. As things stand right now, it looks like she could very well be NASCAR's next female superstar.
Like many drivers in the K&N Pro Series East (referred to from this point on as "KNPSE"), Ruston's spent the last few years driving Late Model Stock Cars, racking up wins and running regional tours (like the ARCA/CRA tour, in which she finished 2nd in 2012). She'd garnered enough attention through her Late Model starts to sign with NASCAR team Turner-Scott Motorsports to partner Dylan Kwasniewski in the 2013 KNPSE. Kwasniewski, the champion of the K&N Pro Series West in 2012, went into the season as the championship favorite, but few expected enough consistency from Ruston to contend for a championship. However, that's changed over the last two weeks, and now Ruston sits just one point behind her team mate in the standings, despite Kwasniewski's victory in the opening race at Bristol.
Ruston has now twice beaten the original record for best ever finish by a female in the KNPSE, surpassing Danica Patrick's high watermark of 8th (in her only KNPSE start, Dover 2010) with a third at Greenville-Pickens Speedway and a fifth at the legendary Five Flags Speedway.
Matching and surpassing records set by Patrick is already a theme in her short career, as she is also alongside Patrick as one of only three members on the list of women who scored top 10s in their ARCA debuts (Toledo Speedway 2011) (the other is Erin Crocker Evernham, sprint car driver and wife of championship NASCAR crew chief Ray Evernham). Ultimately, Ruston will hope to match Patrick's record as the only female pole sitter in Sprint Cup Series history and surpass her record for best career finish in a NASCAR event (8th, Daytona 500 2013). Until then, however, Ruston's goal is the KNPSE championship, which would make her the first ever female champion of an official NASCAR tour.
To do so, she'll have to overcome what may very well be the toughest development series field in the world (for example, graduates from last year's series include Darrell Wallace Jr (who scored a top five in just his second NASCAR Truck Series start), Kyle Larson (who won in just his fifth NASCAR Truck Series start) and Chase Elliott, who (who has two top 10s in two NASCAR Truck Series starts)). She'll face Hattori Racing Enterprise's Brett Moffitt, Revolution Racing's Bryan Ortiz, Ben Kennedy (who drives Hendrick Motorsports built cars for a family owned team) and her team mate, the aforementioned Dylan Kwasniewski. It's a tough task, but certainly not an impossible one, particularly as the Turner-Scott Motorsports KNPSE program is young, and will likely get better over the course of the season.
However, if she does hope to win a title, she'll need to get better at bigger tracks. The one race Ruston failed to score a top 5 in, the season opening event at Bristol, was also the only event on a larger track run at this point. Since larger short tracks make up seven races of the fifteen race schedule (the other eight are seven smaller short tracks and one road course), struggles early at Bristol may be a bad sign for things to come. However, one race does not define a season, and if those struggles truly were limited to just the high banked half mile Bristol track, Ruston will be one for other drivers to fear over the course of the season.
For insight into why a relative unknown has been so competitive early on in such a difficult series, I asked Ashley Parlett, a mechanic for Ruston's Turner-Scott Motorsports team (and someone worth following on twitter), about her rookie driver, and she said the following:
"She is extremely educated on her race cars. She could easily have my job as a mechanic which is rare for rookies these day. She's worked on her own cars and even driver her rig cross country to race."
That understanding of how the car works is crucial in the K&N Pro Series, as it helps a driver understand how to best conserve tires, something crucial in a series that visits tracks like Five Flags Speedway and Rockingham Speedway.
Will Ruston become a star at this level and beyond? With just three KNPSE races under her belt, that certainly isn't yet known, but at this early point in her career, things are looking good, regardless of what Stirling Moss says.