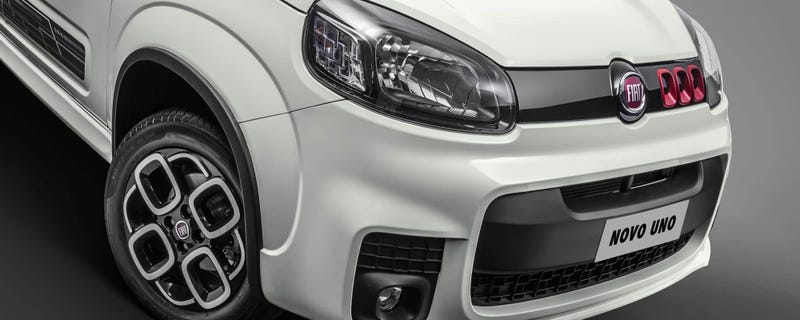 I never liked this car and I still don't, but from the cheapest car you could buy it has now become something quite interesting and I'll tell you why.
It doesn't look boxy and cheap anymore, it looks like a proper supermini.
Maybe a bit too heavy on the plasticky sporty bits. But a definitive improvement over the old model.
Hmmm awful.
It has a proper modern Fiat interior just like the 500L or the Ram Prolapse Urban Delivery thing. Glossy materials, sat-nav and red accents to make it faster.
It comes with that weird Dualogic 5-Speed Paddle Shift only transmission that is probably going to fail within a few years of ownership.
This is the sea of plastic old interior, see, massive improvement.
It has a 1.4 I4 flex fuel engine that produces 85HP on petrol or 88HP on ethanol. 0-60 is done in 11.5 mind bending Sporting seconds.
Head-aching Fuel saving Star-Stop technology is standard and so is this little info display thing.
You can fit a small amount of things on the back if you want to.
It can't be yours because it is only sold in South America for the stupid price of $15,000 (Why is it blue now?)
Pictures: Fiat