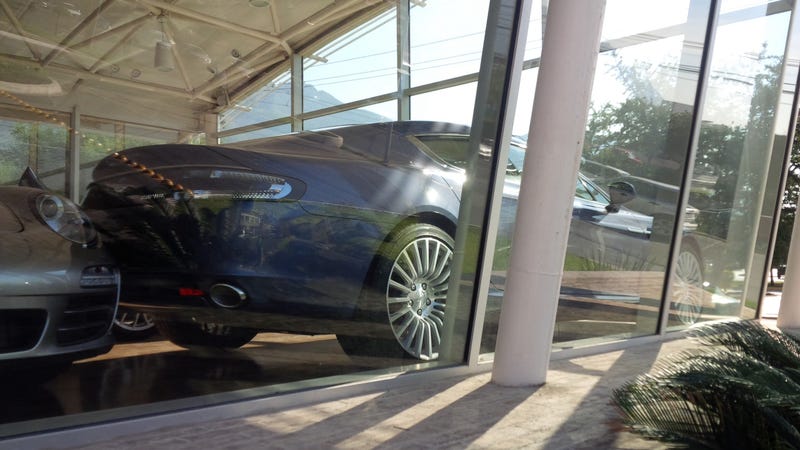 One of the several cars of the dealership. There was a convertible F430, McLaren MP4-12C, a Porsche 911 and a BMW X6. The most interesting, come next.
I currently am in the city of Monterrey Nuevo Leon, and its a wonderful interpretation of what "modern" Mexico is. Anyone would be amazed at the quantity of skyscrapers, the amount of high end stores, and the quantity of truly Amazing cars. I may sound too enthusiastic about it, or borderline exaggerate compared to cities like New York or Boston where anyone can see the same amount if not more amazing cars than in Monterrey. I have been to some of the best cities in the U.S. , and although they are impressive, Monterrey amazes me more. 3 Series, A4s, C Classes are uniforms. Then you have the also common beauties like the CLS, and plenty of A7s that grace along overtaking and begging for attention. Fiat 500s, Minis, Audi A1s to add a bit of color, and the huge SUVs that Demand respect. Cayennes are so common, its like a joke. Q7s, Touaregs, AMGs either going lonely transporting a very important passenger inconspicuously, or bringing along their group of bodyguards behind. Yes, in Chargers. And at last, every possible forbidden fruit of a hot hatch that would make no sense anywhere. Here though it does. All of the excess in their cars does.
850 Coupe. Astonishing, one of BMWs Greatest.
Thanks to this, a Lamborghini, Maserati, Ferrari, and a Couple Porsche dealerships do make sense financially. And, a couple "Exotic" dealerships also come to play, that I always went to with my father to gawk at the astonishing amount of engineering injected into such beautifully compact packages. One that I still visit to this day is called "Exotic Motors" that always has a handful of exotics we can go and admire. This time I went though was the absolute best. I met one truly rare vehicle. One that doesn't get the spotlights but actually benefits from it. The 2009 Audi RS6 Wagon.
All hail the Man Purse, my Hero.
I never thought I would be so exhilarated to see a 4 door vehicle painted in a monotonous silver hue. But this was no ordinary car that actually benefits from being in a subtle color, and one that surprised me when I reached to the glass and observe that straight but so right roofline that ended in a tailgate that defined its name. Avant. Although I didn't get to see it inside, nor even get closer, it was worth it. It was a car that I truly never thought I would see in the wild but feel like a better person once I have.
This is a case of meeting your hero's, and having even more intrigue to know more in depth of them.