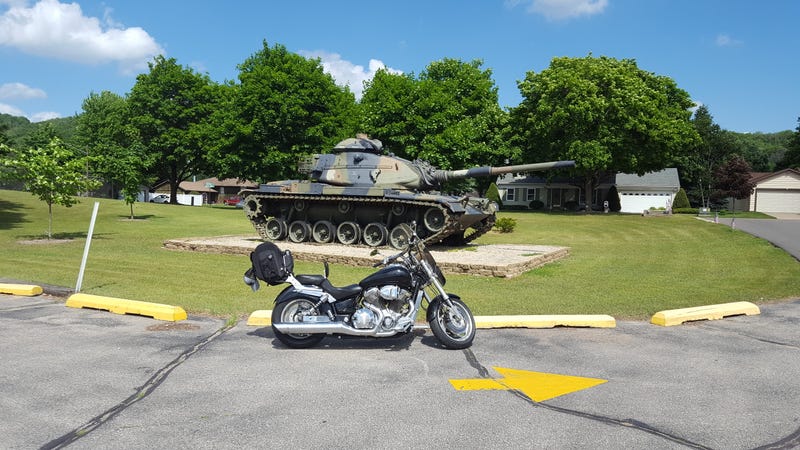 I had a window of opportunity this weekend to do some serious motorcycle riding. However, Minnesota weather had other plans.
I dropped my girlfriend off at the airport at noon on Thursday. She wouldn't be back until Sunday night. That left me with two evenings and two full days to myself. I intended to spend as much of that time riding as I could. The forecast was indicating that I was being optimistic. A minimum of a 60% chance for rain and thunderstorms from Thursday to Sunday.
Thursday afternoon a buddy texted me and was looking to hang out. I try to always put a priority on seeing friends and loved ones, so this was a no brainer. The bike stayed in the garage and I enjoyed tacos, scotch and Jimi Hendrix documentary on Netflix (4/5 stars) with my friend.
Friday morning my plan was to ride roughly 30 miles to an office of the company I work at to troubleshoot some equipment (I manage AV equipment for a large company). When I woke up I was greeted by rain. Took the Crown Vic instead. The rest of my day was spent "working from home" and trying to find a hole in the weather. I looked at every forecast model I could trying to figure out where I could possibly go for a couple of days and stay dry.
Ultimately, I stayed home. When I go on trips like this I camp and they idea of being soggy all weekend and riding in the rain didn't seem like much fun. So I spent Saturday keeping myself busy and route planning for Sunday.
Sunday morning was gorgeous and after a slow morning getting ready, I left at 11:30 and headed from the Twin Cities to Lacrosse WI. My ride down took me along the Mississippi River the whole way, which was a great view. Unfortunately, everyone else thought it was a great view as well. I found myself stuck at 45 mph behind cars for much of the drive.
Once I made it to Lacrosse I headed to Grandad Bluff, which overlooks the city. The ride to the top was twisty and fun. The parking lot was small, but the views from the top were awesome.
There is also a 70 ft tall flagpole with a 12'x18' flag at the top. Seemed fitting for the holiday.
As I was standing around taking pictures I looked at the clock on my phone and realized I needed to get moving to make it home in time to get my girlfriend from the airport. I hit the Interstate and rode 75-80 mph the whole way back. I recently got a new windshield and have been adjusting it constantly to try to get it to the right spot and I finally found it on this trip. Even at those speeds, with a 15 mph headwind, I was having fun.
All told, it was the most miles I had put on a bike in a day. I felt great when I got home and now I feel comfortable planning rides that are 500-600 miles per day. Now I can start planning my big trip for the year, which sounds like it might be a 4 day run to the Black Hills over the 4th of July.
My Instagram for more bike pics: @sheffib32