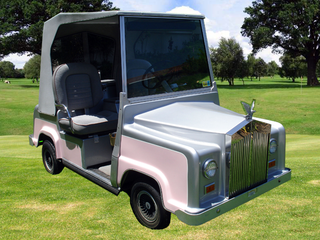 Look at it. I SAID LOOK AT IT!!! Behold, the Rolls Royce tackiness that octogenarian country club members use to flaunt their sizable 401Ks with. It is time to stand up and show them that their time has come... And gone. I give you: The Mercedes-Benz Vision golf cart.
This vehicle is perfect for the young, wealthy, up-and-coming junior executive golfer who wouldn't think of driving the standard-issue "peasant cart" that everyone else utilizes. This fairway warrior comes to the battle with an iPod docking station, heated and cooled cup holders (because we must keep our Pinot Noir/double soy latte at the correct temperature), an entertainment system, heads up display, and the all-important AIR CONDITIONER.
Tired of using the Common Man's controls, like a steering wheel and foot pedals? No problem; it's completely controlled by a joystick on the center console. Hit a ball towards a poor golfer that can't afford a butler to warn him/her of incoming shanks? Just press the "fore" button in the cart to alert them. Because actually yelling "fore" is so unsophisticated.
The Vision has LED headlamps, tail lights, and blinkers to make it also street legal. That's wonderful, because it can be driven over to Connor and Barbi's house for the wine tasting, or to Rex and MacKenzy's place for the high-stakes Hold 'Em tournament (free Cuban cigars!). Why only show it off to peons and regular people when you can drive up and down the guard-gated streets and show it to the people who TRULY matter?
As of right now, it's only a concept, but it should be built. Most younger people of discerning taste and pedigreed backgrounds demand more than what is currently offered. So cheers! Here's to driving it up to the club soon for the Thursday night Martini Social!