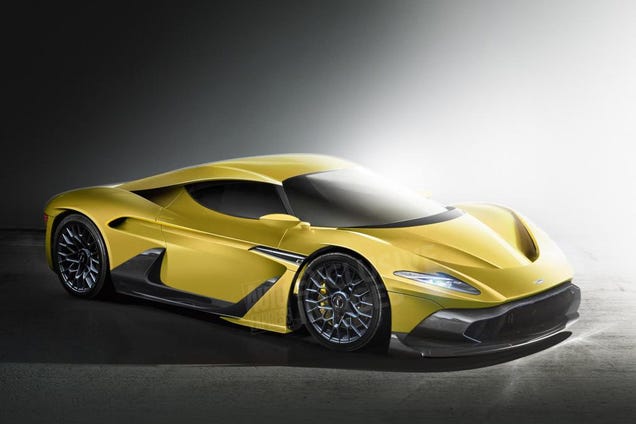 Aston Martin CEO Andy Palmer dished on Aston's product future...and dish he did because he served up some tasty delicacies like capers on a square plate! Here's AM's product rollout schedule for seven models over seven years.
V8 Vantage 2017
DB11 Volante 2018
Vanquish 2018
DBX 2019
Valkyrie 2019
Mid-engined supercar 2020
Lagonda 1 2021
Lagonda 2 2022
DB12 2023
I have a ton I want to say about Ferrari and Aston Martin but I don't want to hit you guys with two posts about the same brands in a row. Just know that Aston Martin and Ferrari are transforming into truly direct rivals. So if you still think Lamborghini and McLaren when you consider Ferrari rivals you are going to have a very difficult and disappointing time getting used to the products coming out (if you aren't already). If you're the type that loves rivalries and wants to see real competition then start shifting your perspective to something more like this:
Aston Martin vs Ferrari
Lamborghini vs McLaren
If you want a scaling then think Lamborghini as the most aggressive, followed by McLaren, Porsche, Ferrari, Aston Martin, and eventually Bentley at the most touring focused end. Notice that the Volkswagen Group (Lambo, Porsche, Bentley) is set up to cover the entire range and anywhere they need to offer an even lower price point they can make it an Audi.
Thus, branding becomes the real battle. Everyone wants to move into a Rolls Royce level of doing your own thing and not needing to react constantly and swiftly to the market. When your branding is high enough you get to set your own pace and stick to it. Ferrari is pretty much in that space while Porschephiles are FORCING the brand into that sphere but not realizing they are going to destroy Porsche's entire business (I'll talk about that another time too).
McLaren has so much product ability and speed of engineering that they will be out of this shark tank within another 4 years. Seriously, McLaren doesn't get nearly enough credit for what they have accomplished between rolling out a consumer brand with the MP4-12C and growing all the way to the 720S. The levels of product excellence and branding within the lifecycle of a $22,000 family sedan is astounding. Wish I could trade the Porsche and McLaren clienteles since it would make both brands far better.
As for Aston Martin, know that they are going to release some very hardcore cars (starting with Vulcan then Valkyrie) in order to get people to percieve the brand as more raw. This will help them move away from being trio'd-in with Bentley and Rolls Royce as a British Artisan brand and more into the same conversation as Ferrari and definitely Porsche. The next Vantage should end up being perceived as a 911 competitor instead of a small Bentley Continental GT without the need for constant reminders.
I swear I can talk about this stuff all night. This already got longer than I anticipated, let me get out of here.
Whooo, RMRtin!!