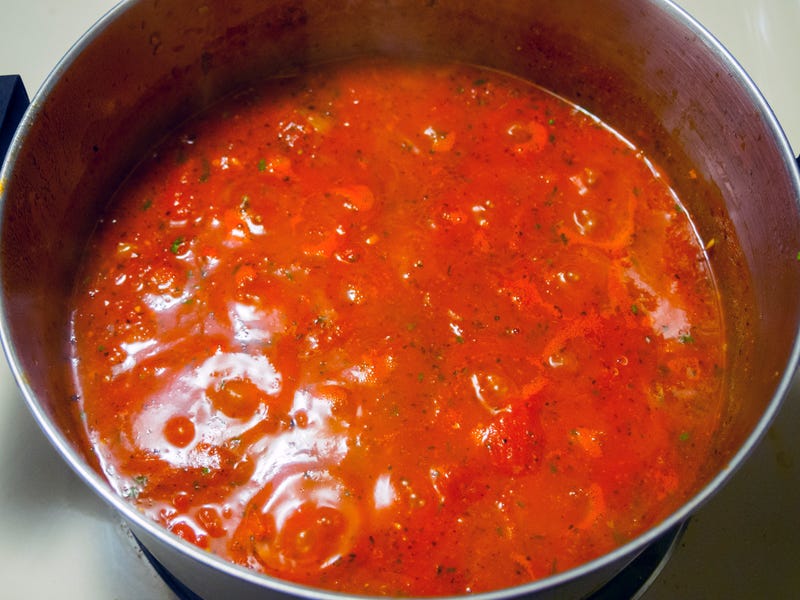 In the latest installment of AtlasM makes sauce in the middle of the night, I've got a batch of marinara sauce simmering away. Because that way when it's time for dinner tomorrow it'll just need to be warmed back up and ready to go. Marinara sauce is super easy to make from scratch, it just takes a little time and technique. Try the real stuff, and you'll never look at a jar of sauce the same way again.
Here's how you make my marinara sauce.
2 28-oz cans whole peeled tomatoes*
1 tbsp extra virgin olive oil
1 medium-large yellow onion, small dice
6 cloves garlic, minced
1 oz fresh basil leaves, chopped
1.5 tbsp dried oregano
1/2 tbsp dried basil
1/2 tbsp garlic powder
1 tiny pinch red pepper flake (optional)
2 bay leaves
1 tbsp sugar
1/2 tbsp salt
1 tsp black pepper

* A note on canned tomatoes: not all of them are created equal. I like to use whole peeled tomatoes and squish them in my (thoroughly washed) hands into the pot. It takes a while but it gives a nice texture and the whole tomatoes taste way better than the ones diced or crushed at the factory.
Ok, on to the making of the sauce.
Heat your pot over medium heat, add the olive oil, and once it's shimmering, add the onions. Cook for a few minutes until they turn translucent, then add the garlic until it becomes fragrant, maybe 30 seconds.
Tomato squishing time! Turn the burner down to low heat so as to not burn your onions and garlic, and start scooping each tomato out of the can, and crush it in your hands, into the pot. This will be messy! You may notice that your tomatoes have slightly hardened ends. Use a kitchen scissors to snip these off—you don't want them in your sauce. Once you've squished all the tomatoes, pour the juice from the cans into the pot as well.
Add your fresh basil & dried seasonings, bring the heat back up to medium to get the sauce simmering, then turn down to medium-low and cover. Let simmer for at least an hour, stirring occasionally.
Taste to check seasoning, and add salt/pepper as needed. Fish the bay leaves out with a tongs, and discard.
That's it! You're done. You can make this ahead of time so when it's time to make some pasta, you have the sauce ready to go. This should make a big batch, more than enough for a whole 1 lb box of pasta, or fresh pasta if you're feeling adventurous.