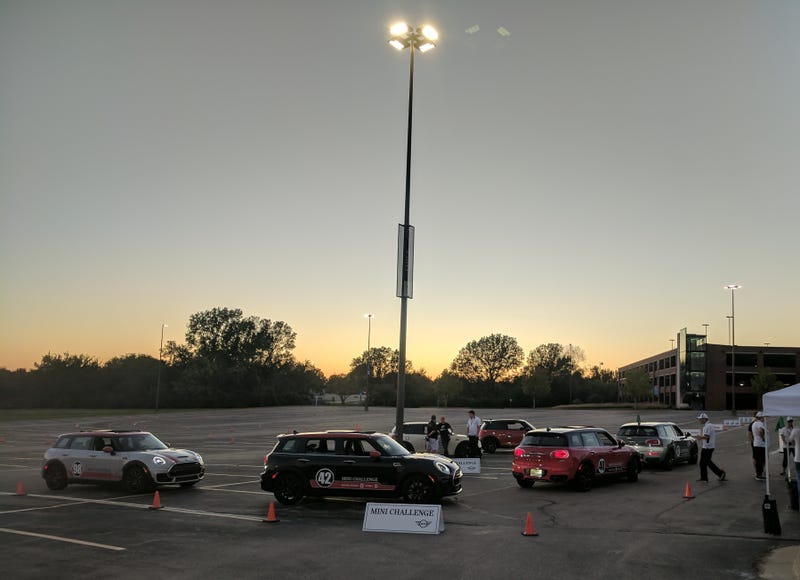 As I mentioned in a previous post, one of the local MINI dealers, Baron MINI hosted a "Mini Challenge" at one of the local community colleges. It was a chance to "experience the new JCW Clubman All4" and take it around an autocross course a few times for $10 (which would go to charity). Several other KC SCCA members joined in on the fun, though mostly at different time slots.
I wasn't sure I'd be in the best of shape considering I had just come home from a work trip that involved three, 12-hour shifts only a few hours prior to my reserved time slot. Still, I can usually conjure up some effort and enthusiasm to drive no matter what.
I wound up taking my Exocet to the event partially because the weather was really nice and partially to troll my way through any talks of trade-in or car sales that might occur. It was a dealership-hosted event, after all. Fortunately, I didn't have to do any of that, as they managed to keep the whole event fun, brief, and free of those anticipated annoyances
They started with a 10 minute orientation meeting, which served to introduce us to the car and the staff on hand, which included a former Indy Car and LeMans racer whose name currently escapes me, as I was pretty tired and our interaction was minimal. From there, we were assigned our run groups and jumped straight in to the action.
Each run group would get a parade lap led by the aforementioned racer, then 4 laps on their own to put in their best time. I was in the 2nd run group for my time slot, so I messed around a little bit in the parked demo car to check out the interior while I waited. And by that, I mean figure out where the traction/stability controls were. Hey, they never said we couldn't. I only got a few minutes to poke around, but it seemed a decent place to be, as far as I could tell with what little light there was left in the day. Remarkably, I had enough head and leg room to get comfortable in both the front and back seats of this diminutive wagon.
When it was my group's time to start, I hopped in to my assigned car and started the parade lap. The advice given over the radio from the racer in the lead car wound up being a lot more simplistic than I expected (mostly just when to brake), though it's probably not a bad thing since not everyone here had done something like this before. I just did what I usually do on parade laps: plan and drive my lines. The course itself was pretty simple too, and about 25 seconds in length. Take off straight, sweep left, small chicane right into another sweep left, short straight, tight hairpin right, short straight, sweep left, and done.
They told us to "take it easy" on the first lap or two, but that didn't feel particularly necessary. ~230 horsepower and AWD in a 3500lb car does not a fire-breathing beast make. They had some decent 280 treadwear summer tires on the cars too, so I figured it'd be pretty easy to handle. Turns out I was right. The car was definitely dialed more towards understeer, but the brakes were good, the steering feel was decent, it had a usable amount of grip, and you could actually get it to rotate a bit if you tried hard enough. No surprises here, just a small(ish), intuitive car with modest performance aspirations.
I hit the traction/stability control switch after the first run and kept shaving off more time. The fastest of the day were running in the low 24s and I was already there by run #3. One more go at it with slightly better lines and less plowing through understeer landed me in the high 23s, which turned out to be good enough to win the whole thing. Neat. All in all I recognized about 14 other names among the top 20 belonging to fellow KC SCCA members.
So yeah, it was a pretty enjoyable event. It's hard to beat being able drive a dealer car in anger without any of the dealership pressure for a $10 donation. It's definitely worth a shot if you ever see it pop up in your area.