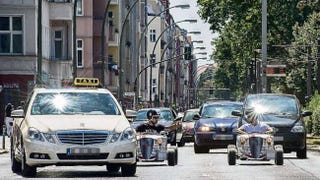 Mini Hot-Rods a.k.a. street legal go-karts with a 170cc, 14 hp engine that look like tiny Hot-Rods are Berlins newest tourist attraction. The company's site (http://custom-manufaktur.de/) claims that they reach a top speed of 88 kph, and come with an auto box. They also offer guided tours of the city. Every city has London-style double deckers doing the rounds of the usual sites these day. Berlin also has a fleet of Trabbis for sightseeing purposes, but this seems to be the new thing all the cool kids are doing.
The company states that there have been no accidents so far, but given that these things are so low, they are just a terrible accident waiting to happen. In this picture you can see them in normal traffic in Berlin Friedrichshain. Unfortunately (and rather untypically) there's no SUV in sight, but just compare them to the black VW Fox, VW's smallest offering at that time, and it's easy to see that they are almost invisible to people in larger vehicles with blind spots. Add the fact that people on their holidays tend to be more adventurous, and less cautious, and you've got the perfect recipe for disaster.
Am I being a killjoy, or are you with me in thinking that driving a go-kart through inner city traffic in a large metropolis, you've never been at before, isn't exactly one of the smartest ideas out there?
(source: http://www.bild.de/regional/berli…)