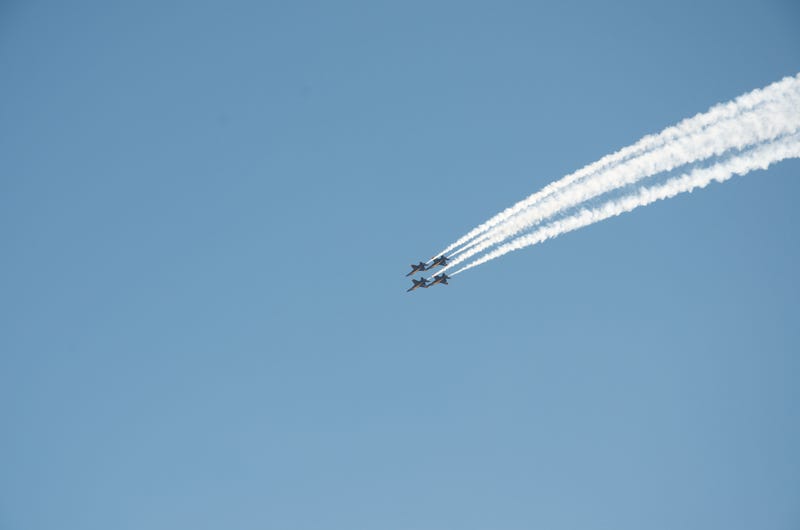 So my kids love this really stupid Canadian show on Netflix called Mighty Machines. It's not stupid because it's Canadian, but because it's basically footage of construction equipment, cars, trucks, planes, boats, etc with really bad voice-overs given to each vehicle. I put up with is because the kids love it and it makes them think mechanical stuff is cool, even when it's trucks at the recycling center. One episode is at an air show and my daughter watches it over and over. So when the air show was coming to town I had to get tickets.
It has been pretty hot in San Diego recently so I was considering spending stupid amounts of money to be in one of the fancy tented areas instead of cooking out in the grandstands. I put out some feelers at work, since my last visit to the air show was provided by one of our partners with a corporate chalet and it's hard going back to the regular seats once you've tasted the good life. A few weeks later I got lucky and was invited (without asking) by Oracle to their tent.
My kids love looking at wheels for some reason. This also happened a lot at the Coronado Speed Festival.
I'll apologize now for the lack of photos. I brought a good camera but wrangling the kids is always time-consuming and telling my wife to watch them while I go take photos is not a good option. So no good photos of the F35... just this one from my cell (thanks for the advertising Geico).
The Miramar Air Show is great because it has all the usual air show stuff (Blue Angles and other stunt flying) but it also has lots of awesome Marine equipment and demonstrations. They do a simulated attack runs, complete with carpet bombing (one blast was so big the concussion knocks you back and the heat is substantial), and Marines being dropped then extracted. We even had a tank drive right in front of us.
(Above photo by Team Oracle) While that was all very cool to watch, the highlight for me was being able to participate in a maneuver with the Team Oracle plane flown by Sean Tucker. One of the things he does is fly under a set of three ribbons, then comes back and cuts the ribbons with the plane. First one is sideways one, way, then the other way, then inverted. I got to help hold one of the poles, which was pretty intense.
So that red dot, second person from the left, is me. My camera was still in Manual mode when my wife grabbed it so the shot was way over exposed. This is even after lowering the exposure as much as possible in Aperture. The tops of the poles go up about 6 feet above the top of the flags and the two poles are about 40' apart. It's a relatively tight space to put a plane through while taxiing, much less flying.

Here's a shot from the Union Tribune. Unfortunately I'm not in it, but gives you a better idea of what it looked like and how close the plane was to me.
Unfortunately I didn't get to stand there with my camera and snap off photos of him coming by since apparently the FAA frowns upon that and it was a decent about of work holding up the pole with a decent breeze trying to pull it over. I did get to snap a few photos while I was hanging out on the tarmac before we went over to the runway.
This is the Patriot flight team heading over. Not quite as great at the Blue Angles, but really damn good. Yes, I was a Team Oracle Poleholder. Get all the sexual euphemism jokes out now. Either they didn't think about the phrasing at all, or did so they can get away with saying things like, "That's it. Hold the pole a big firmer. Yup, that's it."
The Blue Angles sitting on the runway, slightly obscured by smoke from the Patriots who just buzzed us.
The dot up in the sky is the F35 transitioning into VTOL mode.
Overall, it was a pretty wild experience, so big thanks to Oracle for inviting me to partake. If I'm back again next year I might be bored unless I get to set off the explosives.