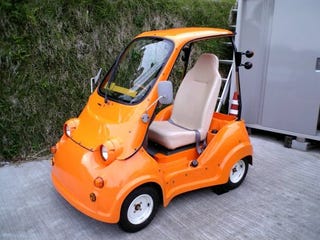 You know how sometimes/rarely/almost never (depending on your level of geekhood) you get a glimpse of a vehicle and you have no idea what it is? A few years ago, if you'd seen something in Japan and you didn't know how to describe it you would never find out what it was.

Nowadays, thanks to geeks worldwide and the power of the internet, it only takes a few clicks and some selected search words to fire up exactly what you are looking for.

A perfect example would be the strange thing that zipped past us last night as we walked to the station in a small town just south of Yokohama. It was very short, narrow and tall, almost as if it was built up from a go kart chassis. It had a canvas assembly on it that made it look like it had driven through someone's tent, and it had a pale blue numberplate.That last point is the first clue, as the colour of the numberplate determines the class of vehicle in Japan. If a car has white plates, it's a passenger car (>660cc engine and the requirement of owning or renting a suitable allocated parking space near your home). If it's yellow, it's a Kei car (<660cc, and limited dimensions for parking without a mandatory space, which is why many of them end up looking the size and shape of the regulation box). For example, this is the aptly named Honda N-box:
Other shapes of Kei-car do exist (e.g. Honda Beat, Suzuki Cappuccino and Autozam AZ-1 are some of the most extreme examples), but the most common type currently are the ones which maximise their use of available space. So, the final vehicle classification below the Kei class (and with an accompanying pale blue plate) is for cars with an engine size of <50cc.Understandably, given that Kei class cars are actual cars with all the contemporary features of larger vehicles and very low running costs, the demand for 49cc microcars is very small. This is in fact the first one I've seen in 12 years of travelling to Japan (including a 2 year residential stint). So, what did I see? A single-seat Mitsuoka MC-1, also known as a K-1. The K-1 was the first of a modern range of microcar kits, which included such imaginative names as:K-2 (inspired by the Messerschmidt Tiger), the K3 (~Alfa Romeo 159 Alfetta GP car) and the K4 (~Lotus 7/Donkervoort/Retro-pastiche generic sports car). It comes as a kit :
There are even EV variants to match the zeitgeist.
The K-1 also had some optional accessories to make it more practical, such as the tent-top and a plastic box to hang off the back. If you want more practical, you need a Convoy 88:
Mitsuoka also have quite a history with microcars, and we know from Jalopnik that they've proven to be the perfect vehicle for escaping from roller-skating Ninjas in.

The question is, why would someone commute to work in such a device when a scooter is cheaper, even easier to park and less limited by surrounding traffic? I have a theory. The street we were on has a go-kart preparation and racing team on it. I suspect one of the staff members has uprated the mechanicals of his "49cc" car for some pseudo-street legal fun. It certainly didn't hang around...

In case anyone is thinking that the name Mitsuoka is familiar, they are of course the same company that brought you the March/Micra that thinks it's a Mk2 Jaguar, and the strangest-looking sports car in the world, the Orochi, among other curiosities.