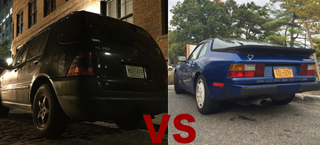 Hey oppo. Someone of you may know I bought a 1999 Subaru Impreza Outback Sport. However that car spun a rod bearing due to a lack of oil and a massive oil leak, so it's on the back burner for now until I can rebuild or source a new engine.
Now, this weekend I am going up to the NER Covered Bridge RallyX with Aaron Brown and Brian Silvestro. Since I don't have the impreza to run I have two options, my DD 1999 ML320 SUV (which has been approved to run by the event organizers), or my 1987 Porsche 944 (which I feel is a little too nice to submit to the perils of RallyX). I can't decide and neither can any of my friends, so I leave this up to you oppo, Which would YOU like to see tear up the vermont RallyX circuit this saturday? My 2 ton SUV or my svelte and nice 944?
I vow to run the one with the most votes in the comments.