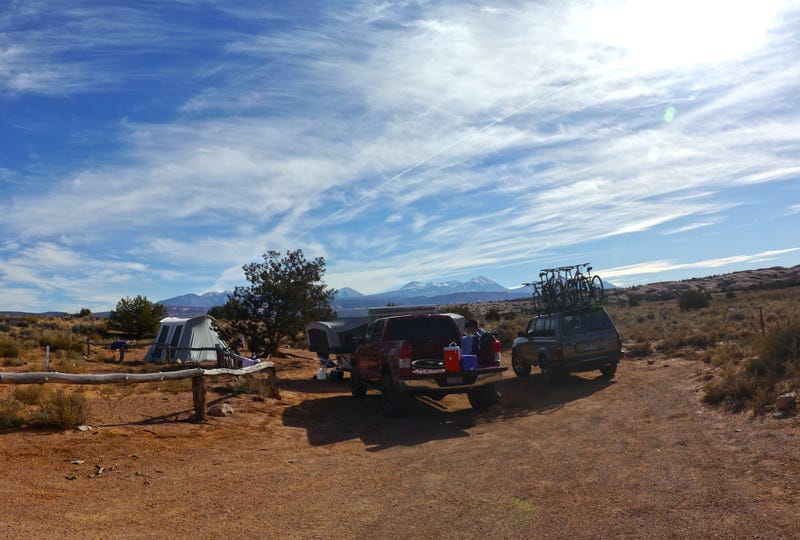 Let me just say I could do this 5 or 6 times a year, easy. Turns out it wouldn't be too hard, at $65 a pop each for 6 guys including two gas hog gas bills.
On that subject, can I just say how proud I am of my cruiser? best mileage ever: 14.8
Also, worst ever: 9.5. On the subject, can I say how miserable a lifted Tundra does in the mileage department? with 4 bikes and a 3000 lbs pop up trailer...11 mpg. Considering that fully loaded to the bump stops I still did nearly 15, that's pretty sad. I bet with a trailer I wouldn't have done much better though and I wouldn't have been able to maintain speed either. As for my 9.5, well that was done crawling...What can I say, crawling is lots of gas for a little distance and I'm pretty impressed I got that good. Speaking of crawling, this was my first chance to do some real crawling with the cruiser. I wanted a challenge, but I wasn't heavily armored so I skipped hells revenge and went for a still tough but more mild Fins N' things
Fins n' things is a class 4 trail which meant that I was probably over outfitted for the trail, but some of the obstacles were pretty insane and I'm not sure I would want much less of a vehicle, though I would wish for more departure angle (hitch left on for protection)
I left a nice little scratch on this hill.
Now I should say I didn't do the entire trail, mostly because of time. You see it was 20 or so degrees at night and about 35 at first light and it doesn't really warm up in the desert until about 12, so we wheeled in the AM and rode bikes in the afternoon. We rode MAG7 in the Gemini bridges area. It was excellent,
This is a panorama of Bull canyon, which goes to the bottom of the bridges. Its a nice 4x4 trail for beginners and leads to a great view...see?
from the bottom looking up
And from the top looking down...
Its a seriously cool place.
On the way out of town and on the way to another trail...well...less a trail and more an open slickrock area called Barlet wash I decided I was finally going to try...on a whim...Baby lions back. Despite its name its actually pretty serious, well not really serious but not tame either. I mean you see the crown vic and previa try it.
but even the run up to the hill isn't something that you can barge into. Given that I had about 800 lbs of cargo, and 5 bikes on the roof i was a little apprehensive. The 80's brakes are great in the best of times.
Having never done it I assumed that you drove up, turned around, and drove down (that's what I remember hearing anyway) so image my surprise at getting to the top and realizing that there isn't a place to turn around. alright, onward...
To um...oh.
Say, how deep to you think that water is?
All in all im pretty impressed with an 18 year old 235,500 mile Toyota with a little bit bigger tires. Drove smoothly and quitely and performed admirably when asked. New springs are on the list, Im thinking 2 inch progressive lift, as well as maybe some rock sliders. The lift to help with the fact that my rear springs were totally bottomed out on a dirt road with 6 people and their bikes, and to give me a little better angles, and sliders to make up for taking off the step for the wife, without having to put those horrid steps back on.
Also included is a semi-interesting short highlights clip of my off road adventures. Enjoy!
Bonus picture time