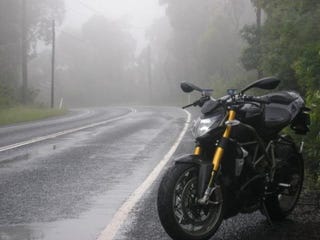 Went for a nice little ride around town, weather forecast was looking nice all the way out to the coast, temps around 60℉, so I decided to head out of town for a couple hours. Should make for a nice little day trip! Here's the second half of the ride out there, and it's a fantastic road to ride:
Something something of mice and men blah blah blah... Started sprinkling a little after turning into the 202, no big deal, if you're afraid to get wet in Oregon you're never going to ride plus it was still 60℉ and the sun was still peeking through the clouds here and there. So onward I went. Rain was light and sporadic for the next twenty miles or so and the road wasn't even wet enough to change my riding in most places.
Then everything changed when the rain gods attacked. The bottom fell out, it was cats and dogs, it was like getting blasted by a fire hose. To make matters worse, the temperature dropped as low as 45℉. I wasn't dressed for that and I didn't have any extra gear with me. This was clearly a well thought out plan and I'm obviously a very smart person. I was wearing summer gear with an extra layer under my jacket and that's it, which I'm normally comfortable in over 50℉ if it isn't too wet.
Fack I was cold! Almost beyond shivering! I had to put everything I had into concentrating in controlling the bike. It was a champ, but I was losing feeling all over and my hands were numb and slow.
When suddenly a lonely saloon in the middle of nowhere appeared! Still ten miles from my destination I had to stop and warm up. I wasn't the only one either. There was a guy on a BMW GS who stopped for the same reason. Went inside and drank hot tea for the next hour hoping the rain would let up. It didn't. I had to keep going because I needed to get gas before heading home.
So I go the last ten miles into town. By the time I get there it's past 6pm and I know I should eat something even if I'm not very hungry. After meandering around town for a minute I stumbled across a brewpub. Perfect. Park the bike, start walking inside, realize I'm so wet my shoes are filling up with water. Get inside and find the place is packed, standing room only. Turns out it's prom night. And the town is hosting a crab festival. Wonderful.
Jump back on the bike and wander a bit more. Found another, less busy brewpub. No bar top seats open. Ten minute wait for a table. Everything, I'll take it. Not that hungry, I order a hummus plate and hot tea. Sit there warming up for a while. Still soaked, still raining, temperature not about to increase, I realize if I try to make it home I'll probably end up crashing for a number of reasons. Riding further at this point would have been incredibly stupid and dangerous.
What do they have for hotels... Nothing. Awesome. Right, prom and a crab festival. Shit.
Then I remembered another hotel that doesn't appear to list it's rooms on major booking sites, or at least it wasn't showing up when I was looking. Checked their website and it didn't say they didn't have any rooms left, but didn't want to book online in the event it was wrong. Called them up, one room left. I'll take it! Here it is. Can you guess their tagline?
Oregon's most romantic getaway.
Can someone explain irony to me?
You can probably imagine the room rate. But DAAAYYYUUUMMM!!! Nice place. My room had a fireplace, which was great for drying out my clothes and gear. They had a sauna which was great for drying me out. And a hot tub which was just great. All in all, could've ended up a lot worse.
Next morning was nice and dry. Still in the 40's but dry. Huge improvement. Had some breakfast and took off. BMW GS guy was actually stopped in a nearby parking lot! Gave him the ol' biker wave and continued on my way.
This time I took the faster and less-scenic route home. Still cold as balls, but tolerable and not dangerous anymore. Stopped at a McDonald's halfway for some hot cocoa and to warm up, but otherwise a nice and uneventful return trip.
As soon as I got home I had to get in the car and drive over three hours in the opposite direction to pick up my new mountain bike! Basically spent all of last Sunday on the road and put on over 700 miles between the Monster and the E55 over the whole weekend.
The kicker? I'm doing this ride again tomorrow with the Ducati club. Wish us luck!