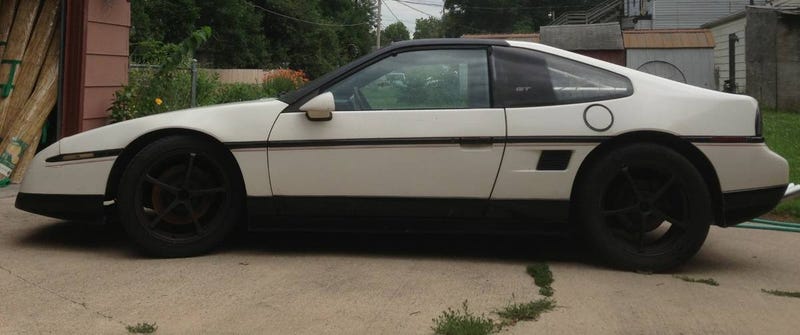 So on the other spectrum from what I posted yesterday, we have a more well-worn example of an '88 Fiero GT. This one is more of a custom job than the last. It has (reading near-verbatim from the description here) a GM 3.4 DOHC V6 swapped in (with 30k miles on it), Muncie 4 speed manual, a Clutchnet 6 puck unsprung race clutch, Nippon Lightstar lightweight wheels, Corvette 12" rotors up front. Seller claims it needs some TLC w/r external body work, a new windshield (but he has one on hand ready to be installed) and that the frame has no rust. Also, the tires might need to be replaced due to wear from "custom camber adjustment for maximum handling".
Asking price : $2500.

There were interior pics earlier and a pic of the engine bay, but when I refreshed the page before writing this post, they were gone. Hmm...
If I were a madman (and I kinda am), I'm not sure I'd daily this. I'd probably do something like strip the interior, apply rollcage, and LeMons the thing, given what's already been done to it. Oppothoughts? Cheap performance steal or custom project nightmare?