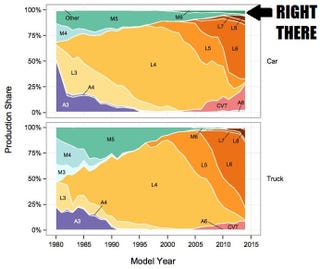 Like emotional fans at a Michael Jackson tribute concert screaming, "WE'LL LOVE YOU FOREVER MICHAEL!" we gearheads refused to acknowledge that manuals were on their way out and created campaigns in their name. We've explained the benefits over, and over, and over, and even committed to buying manuals for the rest of our lives to keep sales, and therefore production, up. We've scared away car shoppers seeking advice by insisting they buy a manual. We've shoved manuals down the throats of these dern kids. Our friends and family have suggested we seek therapy with unhealthy love of rowing-your-own. We've even gotten permanent tattoos to express it.
Guess what? We were right, and now there's data to prove it. A recent EPA report shows the decline has not only stopped, but reversed. Yep, MORE people are buying manuals now and production numbers are going up. The graph below from the report below shows this trend.
The "L" and "A" represent automatics, and "M" is, you guessed it, manuals. You can see a peak around 2010 for the overall production share of automatics, after which the green-shaded area of manuals begins to grow.
If you dig deep enough into the report, you can find that for MY 2012, 479,754 manuals were produced among cars, SUVs, vans, and pickup trucks. For MY 2013, this value rose to 515,966. What's even better is that this trend is expected to continue.
Rejoice and keep doing what you've been doing Jalops. It's working!