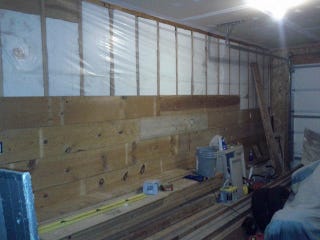 Putting up 1x11 on garage walls over styrofoam insulation.
All the materials were free (sans electrical stuff), so I am finally getting them up. Hardest part is cutting down styrofoam to width and depth of the studs. I have already run a sub panel, and 3 outlets per wall with each wall it's own 20 Amp circuit. 
Once the walls get sone I have a bunch of DOW Super Tuff-R 1/2" sheets to install on the ceiling with shiny side down to reflect the light.
Then the list gets even longer with a 220v heater, a few sodium halide fixtures, an exterior light on the back of garage, exterior garage outlets, blah blah blah.
Let me know what you think or if you have suggestions. This has been an ongoing project since we moved in 2 years ago and finally getting out of the house and getting it done. (its hard getting time in the garage with kids 2 & 4 months)
I've also created Garagelopnik to tag updates as well.