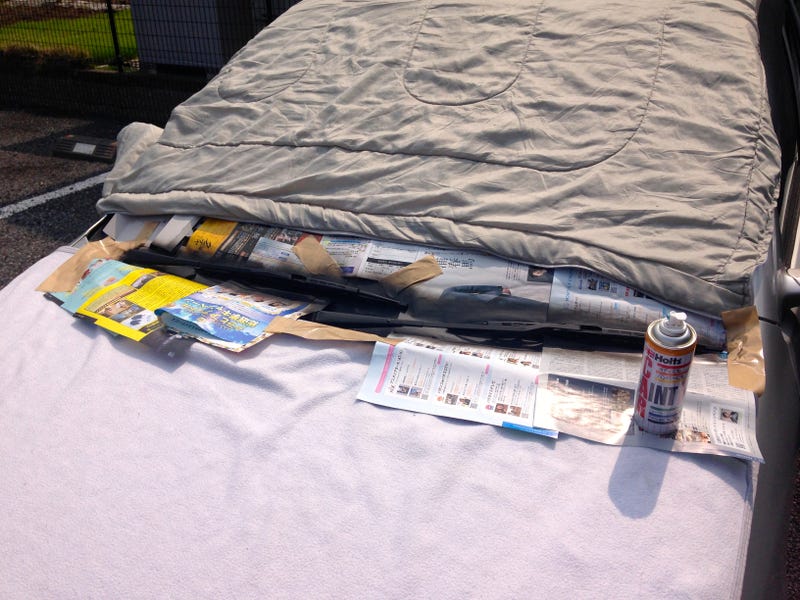 BLAAAAAAAAAACK!
BLAAAAAAAAAACK!
BLAAAAAAAAAACK! Ditched the sunvisor on the rear, reapplied it on the fronts.
I just ordered a new door off Amazon for $105, already in the correct color, so I can dispense with the dent. The passenger side pillar spray seems to be a bit shinier than the driver , but it was the same rattle can. Need to redo it anyway, once I get the new door on.
I've gone around the entire body of the car getting rid of the really bad rattlecan job one of the previous owners did on the scratches and nicks. He not only had terrible overspray and it was put on too thick, but it was the wrong color silver, and he didn't use any kind of clearcoat on top. I taught myself how to rattlecan with the correct color and clearcoat last week. I'll probably do that sometime next week.
Planning to put this front end on, ordered off of Amazon:
As well as other parts, like a new fender and hood, because it's cheaper than dent repair. Then I'll get some 98-2000 era red emblems for my hood and hatch.
Generally each part is roughly about $100. Not too shabby.
Oh, and I resprayed the hatch interior, and I'm planning to put in new carpeting and a false floor.
Eventually all of this will be rolled into one big post on the front page for Jalopnik East.