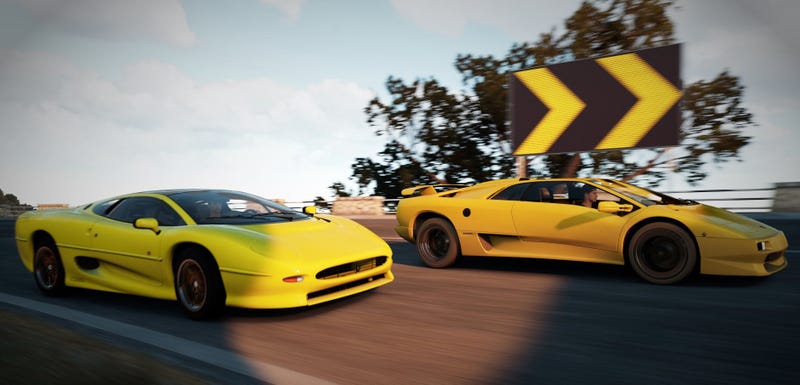 I've cover the 60s and 70s, the 'malaise era,' and even pre-war cars. Now it's time to look at the most powerful cars of the 1990s.

Nissan Skyline GT-R (Nismo 400R) 400hp Nissan made 44 of these cars. For me they're almost "tuner" car than factory but considering Nissan is the tuner they get a pass.

Venturi Atlantique (400 GT) 400hp Production numbers unknown

Chevrolet Corvette (ZR1) 405hp Interesting note: Lotus helped design the head of the ZR1's V8 which made 50hp more than Lotus's own turbocharged V8.

TVR Cerbera (4.5) 420hp 4.0 and 4.2 models made 350hp and 360hp respectively. The limited factory "Red Rose" kit made 440hp.

Ferrari 456 (M) 436hp

Ferrari Testarossa (F12M) 440hp Pre-1995 models (512TR) were rated at 428hp

Porsche 911 (993) Turbo S/GT2 450hp Standard 996 Turbos were rated at 400hp, at least 50 GT2 and Turbo S models were made.

Dodge Viper GTS/RT10 450hp Earlier Vipers were rated at 400hp

Jaguar XJR-15 450hp Though I'm pretty iffy on calling this a "road car."

Ferrari 550 Maranello 485hp

Ferrari F50 513hp

Mercedes SL73 AMG 525hp

Lamborghini Diablo (SE30) 525hp Standard Diablos made 485hp. The Jota kits were rated at 595hp, not considered production for this list.

Jaguar XJ220 540hp

Aston Martin V8 Vantage (V600) 600hp The standard V8 Vantage made 500hp, there were at least 40 V600 and Le Mans models that were rated at 600hp.

Bugatti EB110(SS) 603hp standard EB110s had around 550hp around 50 SS models were made.

Mercedes CLK GTR 604hp About 26 road going cars were produced just barely qualifying it for this list.

McLaren F1 627hp The most powerful car of the decade by a comfortable margin, it wouldn't be until the Ferrari Enzo came along over 10 years later before the F1 was topped.


Honorable mentions:
Cizeta Moroder V16T
TVR Speed 12
Toyota GT-One
Nissan R390
Porsche 911 GT1
Vector M12
Lister Storm

All of these cars were made in too limited numbers.
The Ferrari F40 was built/sold in the 90s but I consider it an "80s" car. A few cars debuted in 1999, but are (in my mind) 00s cars not 90s cars. Examples: Ferrari 360, Porsche 996 Turbo, BMW Z8, Pagani Zonda