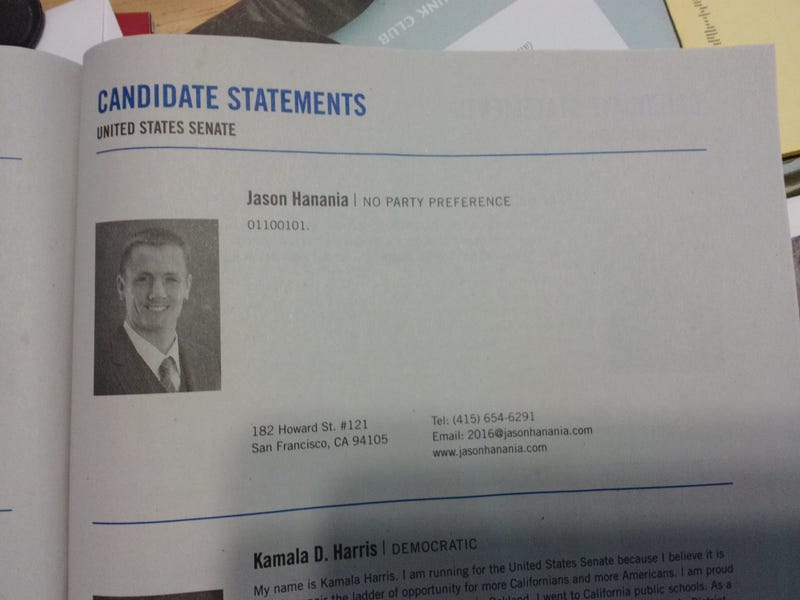 Here are some of the weird candidates that put effort into making a US Senate campaign. Mind they had to pay 25 dollars per word for their candidate guide listing. So some got creative...More after the break. (Yes that is binary code for E)
Nice going with the acronyms.
So many shits were give that he gave up at the end and just made a list.
You can believe in anyone you want, but I believe in not snubbing basic grammar. Why the semicolon after Democratic Presidents? Jesus Christ, can't you have someone to edit it and condense your ideals to the fewest possible amount of words while not dumbing it down?
#Anarchist2016
"I am mainstream Facebook social media" and is her first name president? If not what is she a president of?
And I found this with a quick Google search. This really makes no sense, as what she's commenting on is a Sony E Reader... And not a Sony mic..
The first sentence insinuates that there are several Senator Merritt and he's the only one running. But there may be in the past, but there is only one Merritt running. And since you paid so damn much for the amount of text, why use "California make history!" Instead of adding a "will" to make it at least grammatically correct? It's 25 dollars....and somehow you have 2 law degrees with this level of mediocre grammar skillz
The final gem and the best one.