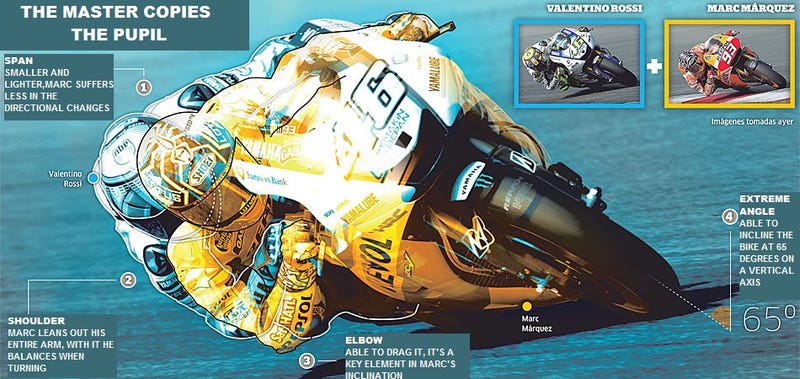 Change is coming and there are always detractors and supporters. As in F1, many are voicing their opinions for the changes in MotoGP, the premier racing class for two wheels. For the past years, most changes dealt with engine size, going from 1000cc down to 800, and coming back up, but this year it is different. In what seems like a major overhaul, the championship will be experimenting with a two tier system a la LeMans, which in time could become the norm for all.
MotoGP will be running a Factory and Open Class in 2014, both differing in regulations.
In an odd and probably cost increasing move, the "Open Class" will be able to use more fuel, a total of 12 engines (which are unfrozen), and softer tires. By contrast "Factory teams" will be able to use 20 liters of fuel per bike (compared against 24 for the Open Class) and a total of 5 engines per season which are frozen from the start of the season. If the new class is supposed to help the independent teams, allowing more unfrozen engines seems to do quite the opposite.
Picture of the Standarized ECU by McLaren Electronics which is mandatory for all F1 teams.Learn more at the linkand/orwatch a short feature by SkySportsF1
Interestingly, the ECU for the Open Class will be a standard Magneti Marelli unit. This sounds like a similar move to that of F1 back in 2008, in order to better control driver aids, but in MotoGP these are permitted. This has caused the Japanese to go up in arms. Honda has threatened to quit if the standard ECU unit becomes norm under Open Class regulations. For this season, all teams must use the Magneti Marelli unit, but only Factory teams may re-write and make changes to the code as the season progresses. If Honda where to quit, in my opinion, the importance of the class could be diminished.
"If MotoGP was all Open class machines? This isCarmelo's [Ezpeleta] idea. Honda's position is clear. Honda is here [because] we are interested to develop the machine. If we cannot develop the machine here, we lose our opportunity to continue racing.

-HRC vice president Shuhei Nakamoto-
Honda, is of the belief that the ECU is one of the major elements that has kept MotoGP road relevant. In their view, the engine freeze has forced them to test new materials and new ways to build more reliable engines. The drop from 21 to 20 liters per race this year will force them to program the bikes to be more efficient while attempting to retain its power. All this can eventually trickle down to their consumer bikes. The Open class rules seem to instigate an unnecessary arms race once again. Engineers will be able to test all kinds of ideas throughout the season, not necessarily a bad thing, but it goes against the recent trend of cost consciousness most other divisions are attempting to establish to ensure a more viable future. Furthermore, according to Honda, their in house unit last year was "smaller, cheaper, more capacity! The Magneti Marelli hardware is 50 percent more expensive than Honda's one," to which one has to add the cost of the data analysis software.
"If you fix the engine [position] you fix mostly the chassis. To change the stiffness of the chassis you need to change around the mounting of the engine. "The bike for sure has some problems, but not only one. I have to fix maybe 20 problems. You cannot solve one problem and find one or two seconds. It is impossible! You gain a tenth here, 0.05s there, put it all together and make a step,"

- Ducati Corse general manager Gigi Dall'Igna-
Although Ducati used to be the smaller team in MotoGP, it was bought up by AUDI (which is owned by the VW group) last season. This was a move to rival BMW's Motorrad division. This means DucAudi (props to McNewbie on the nickname) can no longer afford to be losing against the "cheaper" Japanese bikes. For over a decade,Ducati only achieved success in 2007, an accomplishment which could probably be more attributed to"the Animal"than machine. Reason for which Ducati has expressed a keen interest on switching its entire factory effort (at the time of writing only Ducati-Pramac will test the new class bikes) to the new open class as it would allow them to further develop their inferior engine. Although the Desmosedici engines are incredible powerful, these have not been as light and responsive as their Japanese counterparts, which have usually offered a wider power band and torque curve.
"To be clear, until last year we had been testing with a Mitsubishi ECU and Mitsubishi software…So we knew how to control the traction, the braking etc with Mitsubishi but you have to replicate, remake, everything in Magneti-Marelli…There are some pieces missing. It is work in progress."

- Suzuki team manager Davide Brivio-
To further aggravate the situation for Ducati, Suzuki has decided to return to MotoGP in 2015. They are running a Factory Spec machine, but will also be evaluating the Open Class option as the season goes on. They will only be testing in 2014, but might decide to enter as a wild card at one or two events late in the season. I could only imagine the German-Italian anger if the "new-comer" where to beat them in the upcoming (2015) season.
"Also more fuel and less electronic is a good idea for sure, for everybody!"

-Yamaha [Factory] rider, Valentino Rossi-
As with every change, riders are also paying extra close attention to what happens in the Open Class. Until now, most have remained silent, except of course for Valentino Rossi. He is impressed by the speed and race pace of fellow Yamaha (Open Class) rider Aleix Espargaro who was 4thfastest overall in the first test this year at Sepang. Although some riders claimed not to be going flat out, I am sure more than one [factory] rider in the Big three are worried about how things could change as the season progresses. Obviously as any pro-rider or driver, Rossi has been vociferous about rider aids, and unlike his fellow and competing engineers, he believes that they should be toned down given that even with the 1,000cc bikes there is virtually no wheel spin under acceleration. If you watched the 2013 season, you might remember the incident at Aragon GP, in which just a simple touch my Marquez broke off Pedrosas ECU-wheel sensor wire, which caused him to lose control in spectacular fashion as he opened the throttle out of the curve.
And just to add the cherry on top, every single factory rider (except for Andrea Dovisiozo in Ducati) will be out of a contract at the end of the season. Rumors have it that if Valentino does not return to winning ways he might finally retire, and as sad as that might be the current crop of riders has plenty of talent to replace him, after all he is the oldest rider on the grid. Jorge Lorenzo, his team mate at Yamaha has already been seen in talks with Ducati and Honda, though some speculate this are to mostly destabilize the synergy between him and the team which have been consistently the biggest threat to any championship contender since their pairing began. So we will probably be treated to several rounds of musical bikes until line-ups are confirmed.
This 2014 certainly will be as exciting to watch and follow its development as F1.
For this and other ramblings you may follow me on Twitter @Menebrio
(Top image translated and courtesy of Marca.com, Quotes and images courtesy of Crash.net)