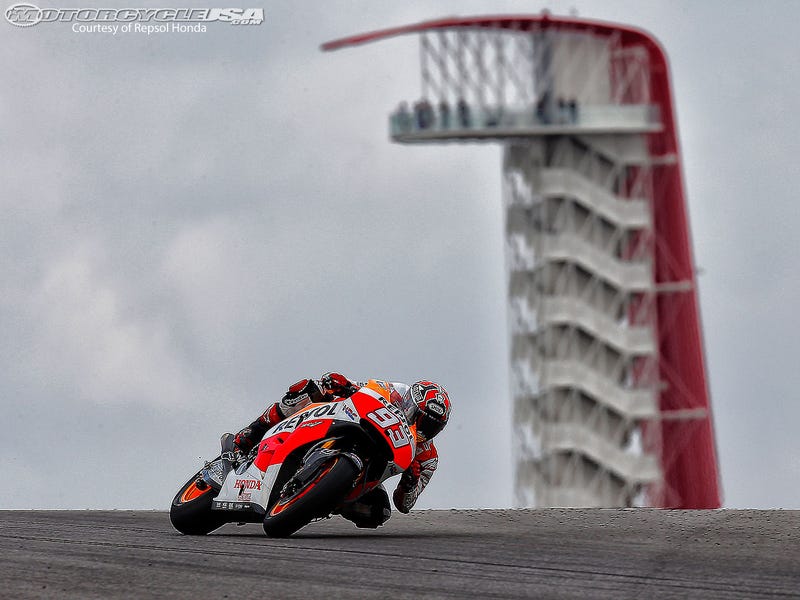 ---
K
I
N
J
A
F
O
R
M
A
T
I
N
G
wow. what a round. SO many downed riders.

Baz went down and got back on.

Rossie wiped out.
Pederosa took out Dovi (2 races in a row he's been knocked out be someone else.

as i'm writing this, Cal crashloads and Smith BOTH wiped out at turn 1 and got back on.

COTA is NOT nice to bikes is it?



With Marquez's undefeated streak here still going strong, he is (I beleive) now the over all leader with 3 races of the year done. Wonder if this is going to be another MM93 year?

It seems that the honda's are still having some suspension issues that reared their ugly head last time around. The crash between Pederosa and Dovi, the honda kicked Pederosa off as he was braking into turn one.

After the crash, Pederosa rode around for a little bit...but once he realized he couldnt finish for points, called it a day and brought the bike in. No point in wearing out a motor for no reason right?

Right after, Pederosa walked down to Dovi's pit and (probably) apologized and made sure that he was okay. Great sportsmanship from him on that one.


Among the other riders, Suzukis have really stepped up their bikes performance up and are now consistently in the top 10s, borderline podiums (esp Vinales)

the top three were Maq, Lor and Ian, with the two suzukis of Vin and ESA rounding out the top 5.


I'm going to go through Wheelers guys post and update the spreadsheet today or tmw.