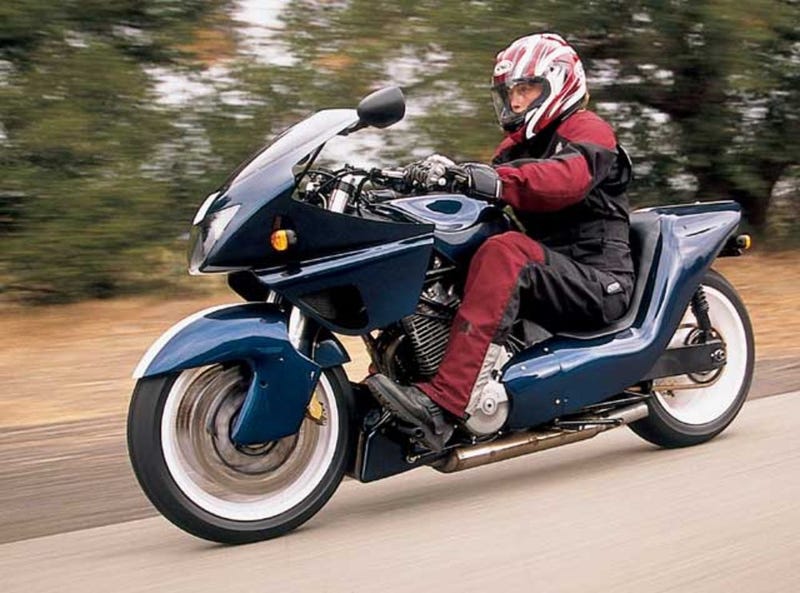 Meet the Alligator A-6. It's exactly what it looks like-a sportsbike with an unapolegetically chopperish forward-control seating position. If you think that's a wierd or dumb idea for whatever reason, you owe Dan Gurney a sincere apology.
Power comes from a 670cc Honda single, both for light weight and sound(Gurney's a flat-track fan from way back, and thus a sucker for a big-bore thumper. Wonder what he thinks of the Husky 701, or the KTM 690 Duke?), and it makes 70 horsepower-not as much as, say, a Victory Octane, but more than enough to make trouble in a bike that only weighs 320 pounds!

That's right, only 320 pounds. Carbon bodywork, chrome-moly frame and magnesium wheels will do that.
Jamie Elvidge of Motorcyclecruiser.com is thus far the only reviewer I know of to have ridden the Alligator, and describes the experience as follows:
"At first sight the Alligator looks like a sportbike, and it's true the bike has high-performance intent. However, when you sit down (and I mean DOWN—the seat height is only 18 inches) and find your footing right behind the front wheel, it feels more like you're riding an extreme cruiser with a drag bar than the sportbike the sleek bodywork suggests. Of course, as soon as you start rolling down the road you realize this bike really doesn't feel like either, but rather its own thing, which is, perhaps, a magnificent blend of both.

One of the major benefits of sitting so low in the Alligator is that you never get that "perched" feeling that comes with modern sportbike ergonomics. When you corner aggressively, you are not going over the top of the bike, or even countering movement with the controlled use of your bodyweight. Instead, you are an integral part of the chassis and the slightest shift—what feels like mere thought—affects steering in the most wonderfully smooth and predictable way. Cruisers have a bit of this effect in corners, although they are heavier to steer and in dire need of more ground clearance. I imagine you can scrape something on the Alligator, but I think it may only be your butt cheek."
Unfortunately, Gurney's only building(built? I don't know how to find production numbers on a boutique motorcycle) 36 of them, all in the blue and white paint scheme of Gurney's famous #36 Eagle F1 car (the first all-American F1 winner), at a price of $36,000 dollars because America can't build a motorcycle that's both fast AND affordable. Fastest American bike under 10 grand? Indian Scout Sixty, which doesn't sit ass low or handle as good, at about $8,000, enough for a decently kept Monte Carlo SS. The cheapest Buell is around $12,000, or... wow, also one decently kept Monte Carlo SS. Cars just kinda cost whatever the owner wants to charge, don't they?
Still, I can't help but wonder how forward-control sportbikes haven't caught on. Feet forward motorcycles with decent handling have been around for years, just with weird 80's and 90's eggshell canopies and such, but nobody's really just made a low, light, twisty motorcycle. Maybe they're afraid of not being seen on such a low vehicle, which I can understand now that they've got Impalas on 26s floating around, but that already applies to cruisers... Why haven't Harley or Victory made one of these? Seriously.
Can you think of another great idea that, for whatever reason, just won't gain any traction? Tell me about it in the comments!