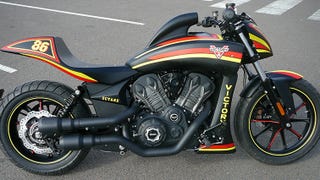 Nope, it's definitely not the cramped, cantankerous Project 156, but the Victory Octane is many very good things. A small, boisterous hooligan of a power cruiser. An affordable, uniquely American bike. Most importantly, it's a hell of a start for a custom build!
Like Indian's Project Scout earlier this year, Operation Octane is as simple as a global dealership contest gets: 3 months, 1 bike per dealership, no limits or restrictions. Being that Victory is (supposed to be) Polaris's performance brand, most of the bikes are a lot more aggressive and capable than the Scouts.
To start, let's take another look at the Indian and Victory Motorcycle Center Poitiers's NASCAR-inspired build.
Octane Lighnting from MotoStrada Portugal.
Lillith 69, the obligatory scrambler.
Evil Ethel, a cool club-style build with some classic chopper nastiness blended in.
Finishing out with Michael Delaney, a Steve McQueen-inspired build from Britam Bikes Ag, Switzerland. In its own way, this is wilder than the Poitiers Racer build!
There's a ton more bikes at the Operation Octane site, pick your favorite ones and vote for them! You could win one, but without the extra parts.