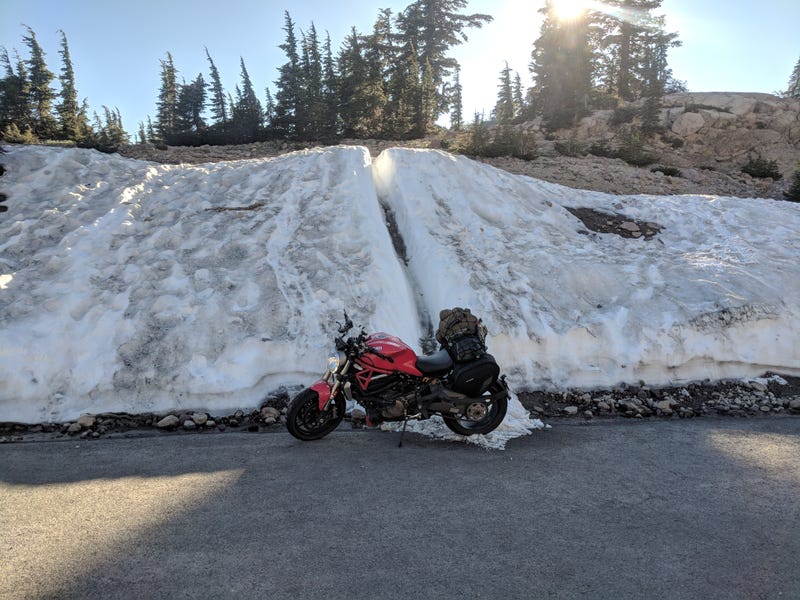 Yeah, that happened. In July. In California. Lassen Volcanic National Park. But I'm getting ahead of myself. I'll back up to the beginning of the day.
Before I get into this, I gotta say, there are some great driving roads along this and yesterday's routes. Like the priest grade roads between groveland and Jamestown. Can't tell because my maps are zoomed out too far? Let me fix that for you. ENHANCE!
If you really want to blow your mind, pull that up with a topographical layer.
Anyways... Finally feeling better and safe to ride again I was finally in my way to Tahoe, albeit not to camp now, just to check it out. But not before seeing this wonderful, wonderful sign shortly after setting out for the day!
Ok, now I'm in my way for real, I swear. Hmm, not much to tell actually. I guess there's a lot more to CA than LA and the beach. Who knew? Well I made it to Tahoe in time for lunch, so I had a burger in the very crowded and touristy South Tahoe.
After that I headed north through Truckee, which I thought seemed like a cool little town, and beyond that into the hinterlands of California, if you can believe such a place exists. Up past lake Almanor, which was a pleasant surprise to see, having never heard of it and not expecting to see such a beautiful place.
Which brings me back to the beginning of my tale today. At a stop, planning out my route, I saw a national park I hadn't heard of before, way off away from anything, Lassen Volcanic National Park. Well I thought that just sounded like bee's knees, so off I went!
Didn't get there until maybe 5pm, so I couldn't really stop too much unfortunately. There weren't many people here compared to everywhere else I had been which made it even better. The whole place has steam and volcanically active areas so it's really cool to see and absolutely worth a trip.
I didn't even stop here as much as I would've liked, I just didn't have the time, and there is way cooler stuff I didn't get pics of. Behind that snowy photo there is a tall peak with a hiking trail leading to the top. No idea how far it is or how long it would take, but I want to do it. And because I'm a dumbass I didn't take notes or pictures to try to remember.
By the time I was through there it was about time for food, which meant it was almost dark, which meant I had better find a place to camp for the night. I wanted something easy so that's what I went for.
This was just north of Redding. Turns out actual campsites along the I-5 corridor are heavily trafficked and highly regulated (more so than anywhere else at least, but they are still campsites) so I couldn't really secure a great one on a moment's notice. Yeah, I could've gone the dispersed route on BLM land, but it was getting dark and I wanted easy because the next day was going to be a slog and I was tired.
Salt Creek I think this was called. It was not as cool as the pics make it look. It was kind of trashed and I could sometimes hear highway traffic. But it worked.
The next day was the last day. Just a boring jaunt up I-5 to home. I'd done this bit dozens of times. And didn't need to go exploring because it's all close enough to be explored on a weekend.
I hope you enjoyed all this as much as I did. If you missed any, there were a bunch, I lost count, go back and check them out. Search the AdvMonster tag or go back through my posts. Bedebedede that's all folks!