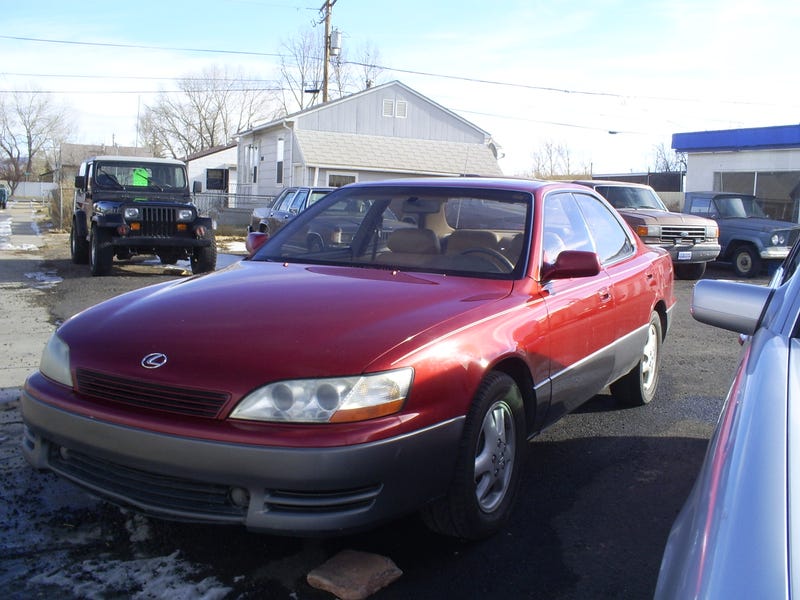 My in-laws bought a 1992 Lexus ES-30 similar to the one pictured back in 1993. I believe it was a program car or lease return, regardless they got a pretty good deal on it. They've taken pretty good care of their Lexus and, like the one pictured, it goes to show how long one can make a good car last. One really nice option is its manual transmission. Imagine the possibilities. I digress. It is beginning to spend a lot of time getting serviced and it lacks a lot of modern conveniences like Blue Tooth, safer brakes, and all wheel drive (my in-laws have a steep driveway and get snow and ice). So, it's time to go.
The trick was convincing them to buy a new car. Why a new car? Because at this stage in their lives, this will likely be their last car. They are in their 80's and don't drive more than several thousands miles a year. We looked at a lot of different vehicles, but my father-in-law has a fantastic roll call of past cars he has owned and we needed to appeal to his inner enthusiast, or at least a little bit of it.
My father-in-law purchased his first car as a young US Marine was a Triumph TR-3. He bought while he was in Japan, but didn't drive it until he was stationed in San Francisco.
He followed up the TR-3 with a TR-4. But to hear him tell it, he preferred the TR-3.
He moved on to other cars when my wife and her sister came along. The TR-4 just wasn't practical. He purchased a Mercedes 280. It's a beautiful car, but not quite as sporting, but could carry around a wife and a couple girls.
He also bought a Volvo 240. Ugh. "It was ugly, but good." It was a station wagon at least.
But you can't keep an enthusiast down. His next car was a Porsche 911 Targa from the mid 70's. This is the car in which my wife learned to drive. I think we all know what a 911 looks like and there is no need to paste in a Wikipedia photo. None of the cars pictured, by the way, actually belonged to my in-laws and were found around the internet.
He bought some other cars including a Mazda Protege, a Nissan pick-up, and the Lexus ES300. Based on a compilation of these cars and a somewhat limited budget, we finally arrived at the BMW X1. We did seek out a "stripper" car, meaning we didn't want to have a bunch of unnecessary extras like iDrive, the larger engine, sunroof, etc... It does have Valencia Orange paint ($550 option), the winter package with heated seats, etc..
The X1 really checked a lot of boxes including easy ingress and egress. This is incredibly important for a few octogenarians. It also has a list of safety features as long as my arm (see Volvo and Mercedes). It's actually pretty peppy, but not out of control (there's a reason the 911 had to go as well). Finally, BMW had a really good Black Friday sale. Seriously, they did. The car's MSRP was around $38k and we got it for about $5k or so off that. This will include BMW's maintenance program, windshield replacement, and dent protection. The latter two allow for repairs without using insurance nor deductibles. Overall, it was a pretty good deal.
Looking for a good Lexus for your track or drift car?