This week's installment of MR-Tuesday was supposed to include some good news about stainless exhaust installation, a tuneup, and head bolt re-torque. Saturday did not go as planned.
My dad showed up Friday and wanted to go look at a 74 Challenger with a 440. Being a Mopar fan, I quickly agreed to go with him. Turns out the car was 10% bondo, the front end was not straight, and half of the panels up there were fiberglass. It wasn't worth the price the guy was looking for so we left empty handed. (note car picture changed to protect the innocent car)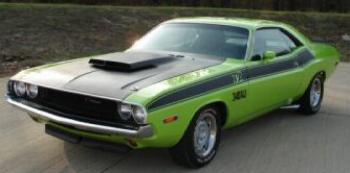 Saturday we decided to look at a 71 Camaro with a blower on it from a 6-71 Detroit. The car looked clean from the craigslist pics so we took the trip out there. I hadn't planned on going in the MR2 but we were already out at the store so I drove. Well my erratic idle came back when the car was warmed up, it only ever did it when it was cold in the past. We ended up not getting to see the Camaro because the owner couldn't sell it, his uncle gifted him the 3500 RPM stall converter in it and wanted it back if he was selling the car. (once again car picture changed to protect the innocent car)
So we left for home. On the trip home my temp needle decided to start dancing on me. We were about 18 miles from home and it pegged to H and then I saw steam come out of the engine hatch. Pulled the car over and let it cool down while I waited for AAA.
The tow truck guy was great, even opted to go get a roll back instead of a normal tow truck so the car wouldn't get hurt towing with the drive wheels on the ground (supposedly it won't hurt the manual transmission cars but why risk it?).
Got the car home and I'm waiting for better weather to tear it down. Hopefully nothing is warped, if it is I might be shopping for a black top and 6 speed combo.
So it is a sad MR-Tuesday, but rest assured the car will return better than it was before!