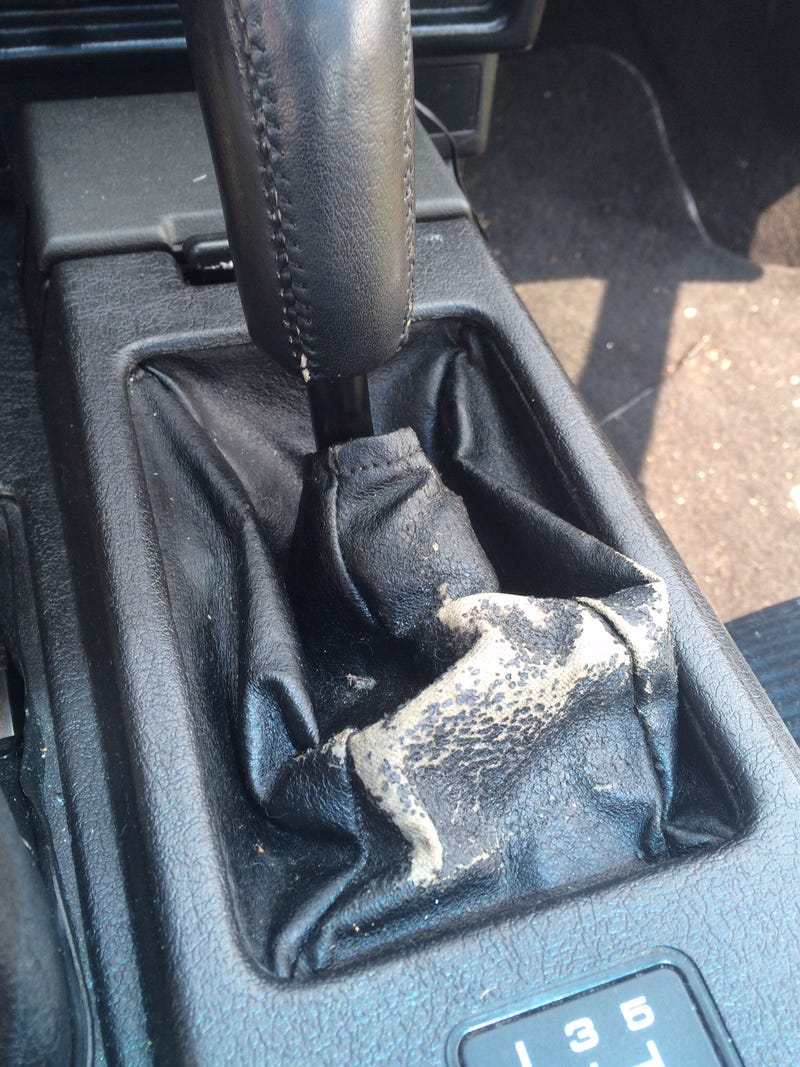 One of the major eyesores in my mr2 was the ratty old shift boot. The finish has been crumbling away since before I owned it, but the opportunity to replace it finally came around this past weekend.
The DIY write up I had found online said to clean up under here while the console was off, but I think I'm pretty good! It also said to remove the drivers seat for better access, but nobody got time for that. The whole swap took me about 15 minutes and the only tool I needed was a phillip's screwdriver. I love this car.
The boot is sewn on to a wire bracket that clips on to the underside of the console. Most replacement boots I found were just the leather, which meant I would have needed to stitch on to the bracket, but the one I found on eBay already had one on it. It cost the same as the others too, including shipping.
Good as new. This boot is a little taller so it gives it a different look.
This flappy door sticker has been bugging me since I bought it, but I finally took some superglue out and tacked it all back together. I thought that would give it a more original look than trying to tape over the whole thing. It also looks like I'm missing another sticker at the top of my door, do any of you other Aw11 dudes have something there? It could have been an old oil change sticker...
I also found a passenger sun visor to swap out my old one which had indents from a picture frame on it. See:
I know it looks like a different shade in my potato pic, but that's just because I cleaned up the new one! $45 shipped off eBay, and I plan on turning right around and listing my old one.
My windshield is scheduled to be replaced on Friday, and I've already got the replacement trim piece for it too. That's a huge item to cross of my list. At some point, somebody whacked the a-pillar with a ladder in a garage, wasn't me!