Hi there party people! It's #MR2sday, I haven't been kicked out of my storage space yet, so Charlie's heart surgery continues progressing. Last week I gave a bit of a recap on how this greasy old motor ended up out and showed some of the progress so far. As of then, the only bits of good news that I had were that the cams looked surprisingly good and the crank still turned freely, so let's dig in!
This is about where it was when I last posted. I got it mounted to my engine stand and got most of the outside stuff off. It was all disgusting. This picture of it is after about two cans of PB Blaster to attack stuck bolts. There's still a caked on layer of grease that you can see from above where there were gaskets.
I think I may have found out why it was overheating.... Juuust a hunch, but I think there might be some buildup in the water channels. It's really gross. It looks like someone vomited in it. After running it hard, it would occasionally leak from this general area. We were never able to pinpoint it or replicate it and replacing the water pump on an MR2 is a pain in the ass, so we weren't going to just do it if we didn't know that that was the problem. Looking at this, replacing the water pump probably would have just killed the new one.
That being terrible and with the car practically draining water from seemingly every gasket, I decided to drop the oil pan. What I found was surprising. A - there was alot of oil left in the pan. B - it was just oil in the pan (no coolant, no shaved metal bits, no dirt, etc). and C - the initial look at the cams wasn't a fluke. Look at how spotless that oil passage is!
The crank looks super clean and there's no buildup anywhere! This is even more encouraging so far, so from here, I'm moving on to the head.
I've already mentioned the cams, but here's another shot. To get to the head bolts, the cam shafts need to be removed first. I put the numbers in for the order to remove the cam bearing bolts. They should come off fairly easily because this area's oiled.
With those removed, we can also inspect the bearings. They're shiny and showing no real signs of scoring. I mean, they're obviously used, but they look good to me!
Ditto for the bottoms. I should note that it's getting dirtier and dirtier as I move around and knock crap off from other places outside of the engine. Lifters showing slight wear. I don't think it's an issue.

Camshaft bearing itself super shiny… Dizzamn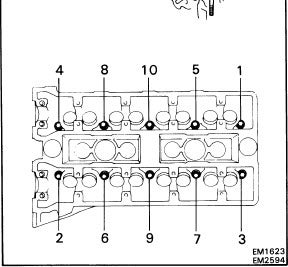 And here's the order for removing the head bolts. They say to use an SST, but it's just a 12 point 10mm socket. I'd recommend usint a 3/8" drive. 1/2" might not fit and with the torque required, I wouldn't trust a 1/4"
For me, the head came off as soon as I lifted on it, which surprised me. I'm used to having to break the gasket seal a bit. I don't know if other people will have that experience or if it's because of my liberal use of PB Blaster, but don't just go straight into yank mode. You might end up on your ass.
Finally, I'm at the block. The pistons look pretty good actually. Dirty from things falling into the cylinders when I took the head off, but the buildup is shockingly minimal.
Cylinder walls themselves are mirror smooth and show no signs of scoring.
So now I can look at the combustion chamber! The valves themselves have a ton of buildup on them, but they look like they're at least undamaged. They might just need to be cleaned. To be honest, I have no idea what I'm looking at right now, so if anyone's seeing red flags, feel free to point them out!
Water passages are a mess, but we knew that already. I'm actually surprised it managed to run at all with it being this bad. Hopefully the lack of coolant in the head didn't cause it to warp, but once I get it down to just the base head and block, I'm going to take them to a machine shop.
In the mean time, cleaning. There might not be an update next week if all I have to show is a bucket of kerosene and a brush. Might post some before and afters. We'll see.