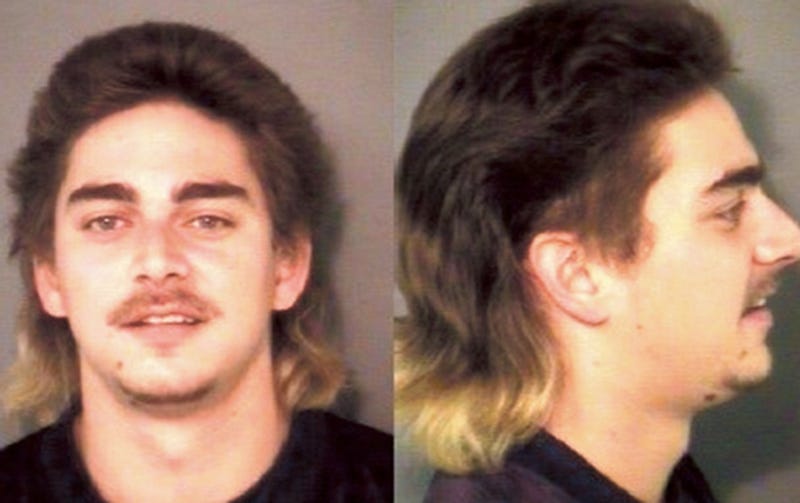 The man in this mugshot is Joe Gillespie from North Carolina. Joe, who somewhat resembles Aaron Rodgers (if Aaron Rodgers had a frost-tipped mullet) is a fun-time party guy. Which is how he turned passing out in a minor league baseball stadium into what he calls one of his "top three nights of all time."
You really should read the full interview with Mr. Gillespie, but here's a rough timeline of events.
Saturday Sept 19
4 PM - Joe and his buddy Mark arrive at Charlotte Beerfest, an event held at BB&T Ballpark, home of the Charlotte Knights, a Triple-A minor league affiliate of the Chicago White Sox.
6 PM - Joe, feeling "pretty hammered," goes to the concession stand in the upper deck to eat some barbecue.
Sometime between 6 and 9 PM - Joe passes out at the bottom of a stairwell.
9 PM - Charlotte Beerfest ends, BB&T Ballpark closes, but nobody notices Joe Gillespie, who is still passed out at the bottom of a stairwell.
Sunday Sept 20
12:30 AM - Joe wakes up, still in the stairwell, and calls his buddy Mark. Mark asks, "Where the fuck are you?" to which Joe replies, "Dude, I don't know. I think I'm still in the stadium." Mark informs Joe that Mark is at a local Hooters, and Joe asks Mark to stay there so Joe can join him at Hooters.
12:45 AM - While attempting to find an exit to the stadium, Joe finds the costume of the team's mascot, Homer the Dragon. Joe decides to "borrow" the Homer costume, puts it on, and also takes one of the team's two-way radios. According to Joe, "I got that in case they radioed that the suit was stolen so I could just chime them back and say, 'Hey, I have it. Don't worry, I'll return it.'"
Pictured: Homer the Dragon. Not pictured: Joe Gillespie inside the Homer the Dragon costume.
1 - 3 AM (ish) - Joe meets Mark at Hooters, where he drinks many drinks, in character as Homer the Dragon. He participates in activities such as "doing all the [dance] moves you always wanted to try but are too embarrassed to," and taking parade laps around downtown Charlotte in the back of a bicycle rickshaw. Joe "got like three numbers that night and added like 20 chicks on Facebook. That's been a plus."
3:30 AM - Joe successfully convinces a Charlotte Metropolitan Police Department officer that he is actually the real Homer the Dragon, and he is working overtime.
5:30 AM - Joe takes an Uber home, still in full costume, after losing track of his buddy Mark.
1 PM - Joe, having sobered up (somewhat) tries to return the Homer the Dragon costume to BB&T Ballpark. "The suit was in the back of the truck because I wanted to drop it back off at the ballpark. I didn't think anyone was going to be there, and they weren't. I figured I would box it all up and bring it to the team store on Monday, and I could just say, "I think you guys are missing something" — no harm, no foul."
3 PM - Joe passes out, again.
9 PM - Four Union County Sheriff's deputies arrive at Joe's home to retrieve the Homer the Dragon suit. According to Joe, "There was four of them and three of them were cool. One dude was a nerd, he was trying to be Mr. Officer. The other two guys — one didn't say much he just stood at the door, but the tall guy said, 'Man, I don't even know how this is real right now.'
The female officer who arrested me said she thought it was a fake call when she was dispatched until she stepped on the porch and looked in the window and there was Homer's head sitting on the couch.
They were out there taking pictures with it. They said they shouldn't be laughing, but it was hard not to."
Joe Gillespie has been charged with felony counts of breaking-and-entering and larceny. His response:
"Man, how did I break in when I was already in there? It wasn't breaking and entering, it was opening and exiting. Someone could've walked around and checked the building after Beerfest — I would've left.
I didn't break anything. I didn't even scratch the door handle on my way out.
The breaking into the ballpark thing, and then saying that I fled the scene. I didn't flee anything. I just walked right out of there.
The officer said I would be able to explain my story to the folks at BB&T. I would love to do that, that's all I wanted.
If I could, I would call Mr. Knight or whoever the person is and talk to him and explain I'm not a thief. If I was, I would've stolen valuable stuff. It was just me in the whole building and I stole a mascot. I could've ransacked the whole place if I were a criminal, but I'm no thief whatsoever.
Professionals steal, amateurs borrow. I'm just an amateur."
There you have it folks, Joe Gillespie of North Carolina is the truest American hero of them all. Because if this experience only makes his top three best nights ever, I can only imagine what the other two might be.