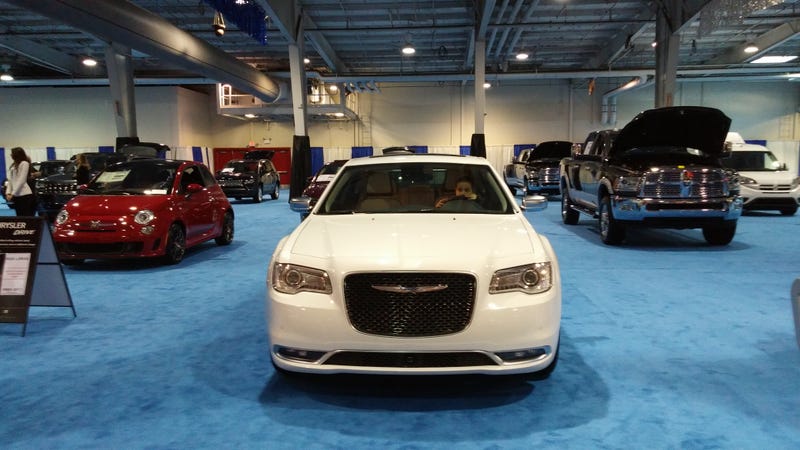 As I mentioned before, I went to the North Carolina Auto Expo last weekend, and I'm just now getting around to uploading my pictures. The timing of this show stinks, because all the good stuff is in Chicago, as we've seen over and over and over. Oh well, here are my photos anyway, along with some random thoughts on random things.
By the way, all of these were taken with my LG G3, and some of them were edited.
The supercar turnout this year was great. Foreign Cars Italia, an exotic car dealer in Greensboro, N.C., and Johnson Maserati of Cary, a Maserati dealer in Cary, N.C. (obviously), brought many very expensive cars. Unfortunately, they didn't let anyone in them, but some of the hoods were open.
There weren't any Hellcats in sight, but the new Charger and Challenger are good in standard form, too, as seen here.
To quote Mr. Regular, putting Lincolns behind an IKEA wall partition doesn't make your brand exclusive, Ford. The new Lincoln MKX was hidden behind the barrier this time. Last year, it was an MKZ.
More people were interested in the Datsun than anything else in the supercar area, for some reason. Nissan did let a select few people inside of it, so that may have had something to do with it.
And now for some more Fiat-Chrysler stuff.
I do not fit in the back of the Cadillac ATS coupe. I can get in, but I can't then get back out. As a result, I had to have someone drive me home and bring me my computer so that I can write this from in the backseat, in my driveway.
The Lexus RC F and the new Mustang were there. The RC F is very, very menacing in person, and the Mustang is, well, a Mustang.
Nobody was interested in the Buicks. I even have photographic evidence.
The new Corvette was there, but Chevy went and stuck it in a corner, hence why none of my pictures of it are very good. It was hard to get all of it in one frame, at least from the side. Oh yeah, they also surrounded it with pickup trucks.
Here are those pickup trucks that I was talking about. I think one of them may have won some sort of Motor Trend award or something.
Speaking of pickup trucks, the Toyota Tundra has TEN SQUARE FEET of grille, not including the stuff on the lower bumper. I measured it. Doug DeMuro beat me to it, though (remember that video?).
The Cadillac Escalade has lights in the door handles. I didn't know that was possible, but apparently it is.
These two were spotted in the parking lot of the show as I was leaving. The blue on the GLA is even brighter in person than it looks in the picture. You can also lease the Ghibli now for just $699 per month, apparently.
Here are the rest of my pictures. I hope you enjoyed this (very large) sampling of what I got to experience of the vehicles that were not in Chicago last week. Did I mention that the timing of the N.C. auto show sucks?