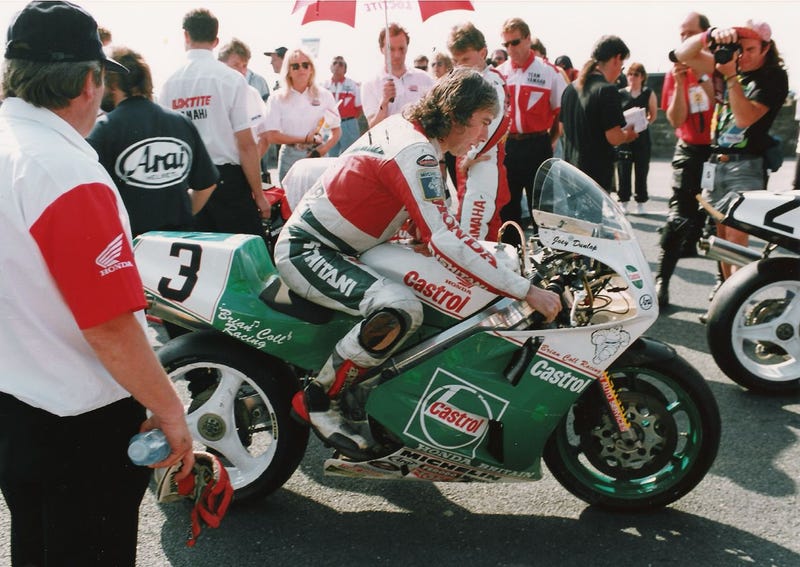 And that's all I was able to write before crying. I know motorcycle racers and race car drivers die. I'm not just a mere motor sports enthusiast. I crossed into the realm of motor sports junkie quite a while back, and happily so. As with any addiction, there are extreme highs, and very deep lows.
Within the past month, there have been seven deaths across the world of motor sports. I held my breath through Pike's Peak this weekend, hoping no one would go over the edge of a very unforgiving fourteener. There were offs and injuries, but everyone made it through. I know people die.
Joey was different. He didn't give us the coolness and devil may care attitude of James Hunt.
He didn't give us the reckless youth of Super Sic who left everyone cursing in the aisles, then wanting more. We knew if Marco made it through, he'd temper as a rider, and become one of the greats. He left us too soon.
We didn't see him race in the great one, LeMans, only to leave us like Allan Simonsen did a few weeks ago. Allan, who leaves behind a wife, a child, a team, and us, his fans. We're still mourning his death and arguing as only internet commenters can do over the safety of the track.
We did see Joey fly across the roads and tracks of Ireland, France, Germany, the entire UK, the world. Joey wasn't a rider, he was a pilot on a bike. He was one of the greatest of all time. Is that why I, and others, will mourn his death today? That's part of it, but only one part. Joey, like the great John McGuinness now, would share a pint with the average man. I've heard stories from more than one Manx Man or resident of the UK detailing the time they shared with Joey at a pub.
Joey was also a humanitarian. He was awarded an OBE for his charity work. Joey didn't just put his leathers or Kevlar up for sale at auction, or hold fancy dinners to raise money. He took endless trips to Romania bringing food and aid to orphans there. I think that's what makes me so sad. Out of all of Joey's accomplishments on his bike, he was most proud, and rightfully so, of his charity work. We need heros, even as grown ups. Joey was a hero, both on and off the track. Watching so many ungrateful racers today, I miss that. I miss a genuine, bold, selfless, no holds barred, hero.
Joey, thank you. A million times over, thank you. May your legend and your life live on forever.
*Image, wiki commons.