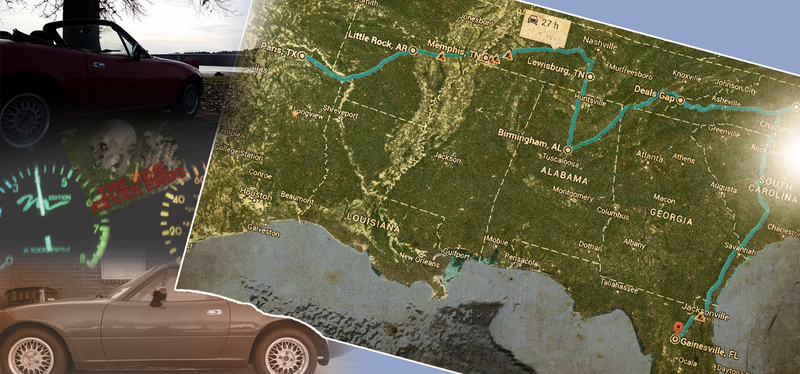 11 days ago, I embarked on a wild ride out east. Seeking warmth, sunshine, friends, and happiness, I set rubber to road and left my home in the dinky town of Paris, TX. My blazing chariot: a 1995 Mazda MX-5 in Classic Red. Purchased in December, I spent the month of January fixing up and preparing the little roadster for the many, many miles that laid ahead of me.
The little roadster is seen ready for battle and grand adventures.
A morning drive, taking our German exchange student to school one last time before my journey begins
February 11, 2015: The Journey Begins
The cold sunshine smiled down on me as I started on my way. My first destination: Arkansas, where I would be staying with some family, a great uncle and aunt, who I'd not seen in many years.
The drive from Texas to Arkansas by way of Oklahoma's gorgeous state park, Beaver's Bend.
The drive was sunny, gorgeous, and uneventful as I rocketed across the Sooner state with the ragtop tossed back into the parcel shelf. As I passed into Arkansas, the air became much cooler quite rapidly. This initial "herald" wind would portend nasty weather soon to come, but for the time being I would simply crank up the heater and enjoy the ride across the Arkansas countryside.
The early morning scene from my great uncle and aunt's ranch house - a chilly panorama framed between window panes
I made it to my great uncle and aunt's home without incident and immediately started researching the local driving roads, a task made very difficult by the lack of internet or cell signal anywhere on their many acres (they're old and quite old fashioned, my aunt and uncle). With a little luck, a few (landline) phone calls, and some crafty positioning of my cell phone out on a window's ledge, I found exactly what I'd been looking for.
February 14, 2015: The Polar Bear Run
The 25th Annual "Polar Bear Run" hosted by the Arkansas Miata Club - right up my alley!
A 5:00AM alarm, a quick cup of coffee, and I was out the door. It was 3 and 1/2 hours to Little Rock from the map dot where my Aunt and Uncle call home - a town called Pea Ridge. Eventually I arrived at the meeting place - A Shell gas station on the outskirts of the city.
The sweater says it all - remind me to get one of these for myself!
I was met with smiles and headlight winks as I pulled into the service station's parking lot and joined the growing pack of MX-5s in their formation. The club members sipped coffee, socialized, and admired each other's cars as more Roadsters trickled in. The MX-5s were as diverse as the guys and gals who drove them - all years, colors, and trims were represented well, and I was excited to hear every owner's unique story of what got them into the MX-5 game in the first place.
A quick meeting before the cruise
9:30 - Time to roll out. We started our parade down the twisty Arkansas backroads while it was still chilly - some 40 degrees, less with the wind whipping around our heads. Still, we put our tops down and carved our way from vista to vista. I had no idea that Arkansas had so many glorious roads hidden in its hills and forests! Truly, this land is what I'd call "Roadster Country."
Eventually, the wonderful day of roadstering came to an end, and I made my way back up to Pea Ridge where my elderly uncle and aunt awaited my return.
February 17, 2015: Icky Weather Ahoy!
Remember that cold wind from earlier? The one that I said would portend nasty weather and all that?
Here it was
The one thing I was hoping to avoid seemed to have my name and number. Snow dropped in decent quantities, followed by freezing rain. The roads were unsafe to drive. More concerning was that my uncle and aunt's house was almost literally in a hole, the only ways to leave the property being a choice of two steep hills. I had no choice but to bunk out at their house for a few more days than anticipated, but I didn't complain - In fact, they were quite happy to have a guest, especially myself in particular.
Old folks - always happy to have a strapping young gentleman around!
February 18, 2015: Little Rock!
Several days passed. After much shoveling, some tractor work (thanks to my uncle!), and many shingles laid out in the snow, I was finally able to escape the snowy hill and make it to my next stop in Little Rock, where an Uncle and some cousins eagerly awaited my arrival.
A change of scenery and of pace, but certainly not in weather
Now, after a few days of rest and relaxation, I am ready to head ever onward to my next destination: Memphis, TN. I set off tomorrow. More exciting stories are yet to come!
To be continued...