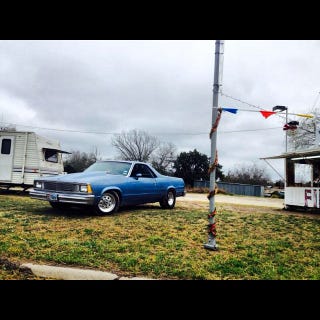 So I made a bad decision.. Or atleast it feels like a bad one for now. Went to San Antonio this past weekend and bought the cleanest RX7 I've seen in awhile for 1000 bucks from the sketchiest neighborhood I've ever stepped foot in.
Got back to austin and it overheated.. then it overheated again.. and Again.. I replaced the thermostat and put plugs in it yesterday but it still overheats FAST . I'm left to believe that the coolant seals are blown .. Anyone want to buy a rx7 ? lol
If you happen to live in the Austin area and know how to work on these I'll pay you to walk me through the rebuild. The car has a 12a in it with 120k original miles.. Pretty clean interior , perfect body with ZERO body damage or rust (I know it seems ridiculous but is true) After doing additional research and driving the car I'm so interested I want to take it apart horribly bad..
The headlights GO UP AND DOWN! how fucking cool is that.. first time I flipped the heads up was a huge deal. I jumped up and down in the seat and did it again and again and again.. I wish all the cars I owned did this .
UPDATE :
I purchased the car Saturday December 20th and sold it 3 days later for 500 more dollars. All I did was put new sparkplugs and a thermostat in it took some decent photo's with the roomates 5D and posted it on CL. After figuring out this thing was going to overheat on anyone who came to drive it or buy it I dropped the price to 1500 and I got it. Matter a fact the first person that came to see the car drove it away.
The 3 day flip is real and alive. I'm now looking for my next 3 day flipper. At the moment I've found everything from Datsun to El camino's. Which brings me to my next point. Yesterday as me and the lady were making it back to Austin from her family's ranch in Alice Texas we saw this el camino. Now if you don't know my woman has been requesting a el camino for well over a year now. So we stop and meet the king of all good ole boys "Bill" and talk about the El camino you see above. He inherited the car after his father passed earlier this year (just like the rx7) and now it just sits.. The car has a 400 cubic inch small block chevy , Turbo 350 with 3500 stall and built rear end. This was undoubtedly one of the fastest cars I've ever driven and janky too.. just how I like'em . Anyhow hope the rest of you Oppo's had a great Christmas.