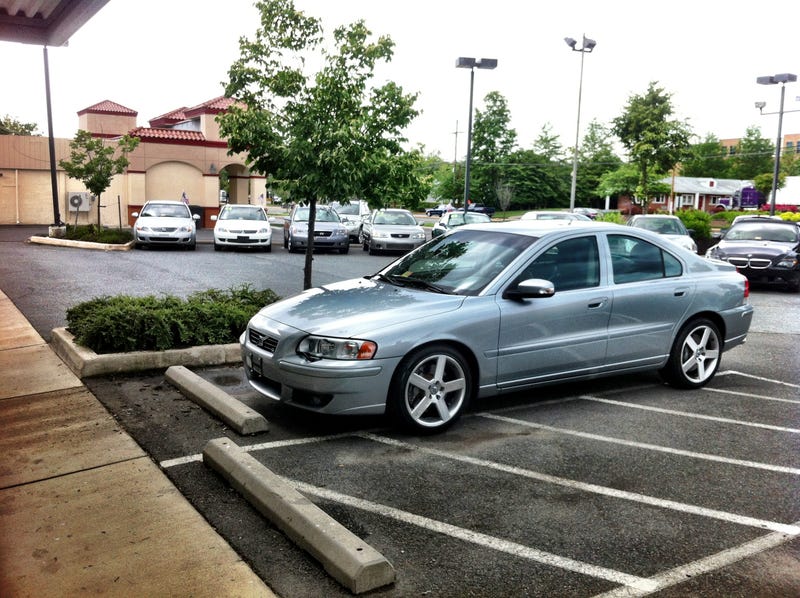 One year out of highschool, my decision to spend my hard-earned money on a 2008 Subaru Legacy 2.5i Automatic (4-Speed) two years prior haunted me. While it was a great car, it was (a) Slow (b) Had a slushbox (c) I 'murdered'/blacked it out. I lucked out and sold it on eBay for slightly less than what I payed for it 20K miles ago. While I originally was slated to get a 2008 Mazdaspeed3, I ended up buying my R instead.
(Full Disclosure: Volvo wanted me to drive the S60R so badly that they let me spend three full days driving throughout Northern Virginia and Southern Maryland trying to find a good one. Volvo was kind enough that they let me spend just shy of $21,000 at a used car dealer that made Wal-Mart look classy).
I tested four R's; two being GT's (6-Speed Automatics), and two M66's (6-Speed Manuals), one of them being a 2006, and the others all 2007's. The GT's were both beat to hell, and both manuals were pretty much pristine. Color really didn't matter to me, I just wanted an honest un-abused caR.
In the end, I had to choose between a 2-owner 2007 Silver/Nordkap (blue) M66 w/ 55K, no nav, 17" wheels, and a service history as long as War and Peace for sale at a reputable Volvo Dealer, or a 1-owner 2007 Silver/Nordkap M66 w/45k, a navigation that was considered awful back in 2007, 18" machined wheels, park distance control, and a clean Carfax without a service history, for sale at used car joint next to a Taco Bell - all for $1,500 more.
I took a risk - and it payed off.
Exterior: 8.5/10
This is completely subjective, but I have trouble finding a car on the road as understated and elegant as an R. I find myself constantly staring at when I walk away from it. It's hard for me to believe that this design is pretty much going on ten years. While I never exactly cared about the exterior color, I am happy I ended up with silver, which matches with the headlamps. Overall, I dig the monochromatic look this caR embodies. The only things that prevent me from giving it a 9 is the US-Spec Headlamps (orange turn-signals), and the poorly integrated park-distance control (they look like pimples on the rear bumper). This car doesn't have any chrome on it, which is refreshing.
Interior: 7/10
Overall, it's a nice, unique place to be. The seats are comfortable for 5+ Hour drives, there are no bright, blinding surfaces, and the steering wheel has a nice thickness to it. That being said, one thing that bothers me is the seating position. While I have no issues fitting in it at 6', it has a more upright seating position than my past Subaru and most BMW's. With size 13 Feet, my shoes are a little too cozy in the footwell for a clutch. Driving barefoot is sometimes necessary. In terms of wear, the bolsters have seen better days and the leather wouldn't hurt from being re-dyed. Furthermore, while I don't care, as I am the driver, the backseat is best used for your enemies, or your friends who are without legs.
Acceleration: 7/10
Engage 'Advanced' in the active chassis settings, make sure the outside temperature is below 60, and this thing will knock your socks off. Take this thing out on a hot summer day and it's panting like it just ran a marathon hungover. The R so desperately needs an intercooler upgrade to perform well annually (for all of us with bi-polar weather). Aside from that, this thing comes alive at around 4000RPM. It's great at highway overtakes and sounds beautiful while doing it (especially with an aftermarket exhaust).
Braking: 8/10
Standard Brembos are cool. I never have issues stopping on a dime without a whole lot of fade or travel. There's not a whole lot to say here - they do there job rather well. My only issues are that they're super squeaky.
Ride: 8/10
It's nice having 'Active Chassis Settings', that allow you to drive in 'Comfort', 'Sport', or 'Advanced'. In 'Comfort', it can drive like a mattress when you want it to, or in 'Advanced, it can show you bumps in the road that aren't visible to the human eye. My R reminds me that it has spent a fair amount of it's life on DC roads by it's suspension that crashes over bumps. Moreover, I experience a lot of sidehop when driving the harsh, Connecticut and Pennsylvania Roads.
Handling: 5/10
(Note: my R is mostly stock - this can be fixed) The steering and handling department is where I feel the R really loses it's way. The steering needs improvement on almost all levels. It's numb, vague, and feels unnatural. Furthermore, the turning radius makes U-Turns into something of the past (it's really that bad). That being said, just about 200 Miles Ago, I replaced the cheapo set of Nankangs that it came with, with a set of brand new Michelin Pilot Super Sports. The character of the car has changed through the tires immensely. The steering is accurate, I just wish that was communicated to the steering wheel better.
Gearbox: 6/10
I can't say a whole lot as my experience with other manual gearboxes is somewhat limited. With that said, the spaceball is beautiful and one of the first things people notice on the car. For mine, the gearbox is somewhat unpredictable - some days it works really well, with perfect, crisp shifts. Other days, I wish I carried a neckbrace around. All of this could be driver error - I will say, however, through my experiences driving a 2006 TSX Manual, 2012 CR-Z Manual, and 2014 ATS Manual, this ranks towards the bottom.
Toys: 7/10
It has a fair amount of stuff for being seven years old. I have a 6-Disk CD Changer, an aftermarket aux input, heated seats, power everything, park distance control, an outdated navigation system, and auto-release rear-headrests that can whack anyone who complains about rear legroom. There really isn't anything else I'd need. However, I do wish Volvo never put in some fake auxiliary input in the center console. Also, the Volvo Bluetooth System in this thing SUCKS!
Audio: 8/10
The HU850 Radio Unit, accompanied by the 13-Speaker Dolby Sound System sounds pretty good, even by today's standard's. Volvo replaced the HU803 with the HU850 in 2005, even though the HU803 was more customizable through a secret menu. Aside from the stereo, I give this such a high rating for the exhaust. The factory exhaust doesn't do the car justice. I have the Eurosport Tuning Sport Exhaust System, and it is actually what get's me the most compliments on the R. It's very refreshing to hear a 5-Cylinder Engine Purr in a world filled with 4-Cylinder's with fartcans installed.
Value: 8/10
I overpayed. I regret not using SwedeSpeed when buying my R, not to look in the classifieds for a pre-loved, enthusiast-owned R. While I dropped just shy of $21K for my R, it should have realistically been at $19k - tops. With that said, I got a very, very clean one without any paintwork (not even bumpers), and a detailed service history (provided by my Volvo Dealer after purchase). Overall, I got a car with 45K that originally cost just over $48k when new. Granted, by how these things sold new, the original owner probably got a hefty discount.
The prices you can find for R's now is lingering slightly above $5k (for an older one), or $15k for one comparable to mine. While the price can be intriguing, it is very important to know that you are not buying a caR to avoid BMW/Audi/VW Maintenence - these things are needy. While the engine is reliable (in reality, it's just a regular Volvo Engine with a big ol' turbo on it), little components throughout the car can (and will) fail, and they will not be cheap.
Overall, I would completely recommend the R if you are looking for something unique, not ostentatious, and fun to drive - all for not a whole lot of money (unless you're looking for a V70 R M66 with Atacama Leather - that's another story). It's just important to remember that the cheap ones are cheap for a reason - these ain't no Hondas.
I usually get bored of cars after 2 years. The R has completely changed my outlook on cars, as I cannot find anything worthwhile replacing it with. There isn't a whole lot out there that has 300+hp, 4-5 Doors, Manual, and AWD that's understatedly beautiful like an R.
Unless....
72.5/10
Engine: 2.5l 5-Cylinder Turbo
Horsepower: 300
Transmission: 6-Speed Manual
0-60: I've heard everything from 5.1-6 Seconds
Top Speed: One Day...
Seating: 2 + 1 Dwarf + 2 Double Amputees
MSRP: $48XXX