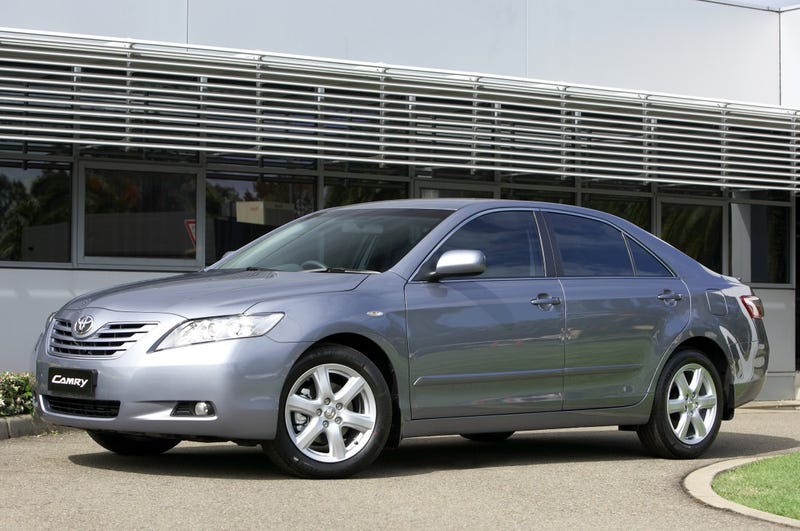 Photo Credits : Autoworld.com
Introduced in 2006, the XV40 Camry model has been one of the United States best selling cars. This mid-size sedan has been Toyota's primary seller in North America along with the Corolla for a while now. Introduced in Fall 2006 was the Hybrid model, an Electric-Gas alternative to the Toyota Camry for those who want to get better MPGs out of their daily driver. This is my personal car.

(Full Disclosure: Toyota wanted me to have this car so badly they sold it to a millionare for $44,000 in 2008, who gave it to his co-worker in 2011 for $8000. This co-worker happened to be my grandpa, who gave it to me as a high-school graduation gift. I am very grateful for it.)
This car has about 158,000KMs (98176 Miles) on it, and is equipped with nearly everything other than leather and sunroof, so it has things like bluetooth phone, 6-disc CD changer, full A/C, an engine, a battery, another big battery, seats, tires, doors and other luxuries.

Exterior: 5/10
I mean, it's not the worst looking car out there, I wouldn't say its ugly by any stretch, but it's also not very beautiful or striking. It's a car, and it looks like one. The Camry SE does look better with the body kit and spoiler.
Interior: 7/10
Extremely roomy inside, with comfy seats make the car a nice place to be in, sadly this is ruined by plasticy parts and "meh" build quality (I can pull the knobs off without even trying). But the decent score comes to the very nice feel and vibe of this car at night. The cool-teal console lights up at night making things easy to see, use and even looks cool. The speedometer lights up when in electric mode, which is a very nice touch. Despite the cheap plastic parts and build quality, Toyota tried, they definitely put effort into making it look cool at night. The generous interior space and comfy seats make this car fantastic at seating 5 adults comfortably (or in my case, teens).
Acceleration 3/10
It's hybrid. The car accelerates much better when your gas meter is above half, i assume because below half its trying to save gas.. The estimated 0-60 time is 7.9 seconds, which isn't that bad, but I don't see it. I've almost got into an accident because I couldn't accelerate out of a left turn fast enough. It's slow.
Braking 5/10
I've been in this car with proper breaks, and it's like any other car. Nothing to write home about, it will keep you from dying.
My specific model? The brakes are extremely worn out and sometimes don't work unless I put a lot of pressure on them. Along with crappy tires (waiting for winter before I buy new summer tires), its annoying.
Ride 6/10
It's comfortable. It's smooth. I mean, this car is made for baby boomer and it shows, it doesn't rock you in any way. It moves you from place to place with extremely soft suspension. It's no Rolls Royce or Bentley, but its more comfy than a Mazda 6 or Fusion. But not by much. The soft suspension is also very bouncy. My mom's Civic is much much lower than my Camry, yet the Camry hits speed bumps much more often, at lower speeds, because of the jello suspension.
Gearbox 6/10
http://en.wikipedia.org/wiki/Hybrid_Sy…
It's the Hybrid Synergy Drive. It has a high and low gear. Driving it makes it feel like it has no gears at all, so it's very smooth. But when it switches to gas/electric the car shakes violently. I don't know if that is because mine nearly has 100,000 miles on it, or that is just how the car is.
Toys 5/10
Six-disc changer, Bluetooth connectivity, Steering wheel controls, Easy to use everything. It's better than nothing.
Audio 7/10
The sound system is bass heavy, very very bass heavy, but the quality is quite good, one of the best I've ever been in. It has fantastic sound proofing too. One of the biggest compliments I get with this car is the amazing sound system. The auxiliary port is in the stupidest hardest to reach black pit, but it works great.
The 2.4L Hybrid I4 sounds much better than it is, it sounds almost like a distant V6 from the inside, which is very nice. Too bad it doesn't preform like one, but I guess that isn't the point.
Value 10/10
I got it for free.
My Grandpa paid $8000 for a $20,000 car at the time.
For it's original price tag of $44,000 it's not a deal by any stretch though.
Overall 44/100
Low score, yeah. This probably won't convince anybody here that the Camry is a car worth buying for anybody, but I love this car. It's my first car, and its big, comfy, and has great audio. Sure it doesn't have an RPM gauge, and I can't show it off to anybody, but its a hybrid, people who have never been in one are completely amazed by my car. I often have people coming up to me asking questions about how it works etc. It's cool in it's own way.
I would keep this car for a while if it didn't have engine problems around 200,000kms from what I've looked up. I'm probably going to switch it for a Volvo because I want my next car to last all through colllege/uni. Also the insurance on this Camry is killer, Hybrid Camry insurance is $5 less than a RX8. Mazda 6 Sport V6 is cheaper to insure for some reason.
Engine: 2.4L 2AZ-FXE Hybrid Inline-Four
Output: 147 hp (108 kW) at 6000 rpm with 138 lbft (187 Nm) of torque at 4400 rpm
Transmission: Toyota's Hybrid Synergy Drive, e-CVT
0-60 time: 7.9s (feels like a month)
Top Speed: I can't find that information anywhere. Highest I've taken it is 120Km/h which is 74 MPH.
Curb Weight: 3263 Lbs, 100 Lbs lighter than a Base Model CRV. That's Lotus level!
Seating: 5, 6 if you count the trunk.
MPG: 21 City/ 31 Highway