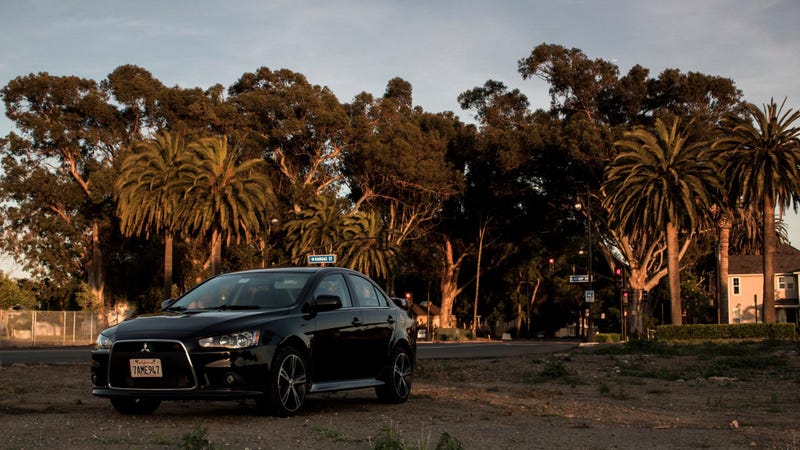 A couple weeks ago I was shocked to hear the guys from Everyday Driver picked up on my car debate about which fun car to get if I moved to Scotland. I really enjoyed their suggestions though I think their knowledge of Euro-cars is still a little on the light side ;)
To answer some of their questions:

I currently live in the SF Bay Area.

The Ralliart probably has a tick shy of 300 crank hp. 300 with stickers.

I think the goal is to find a "fun car", not something super practical. I'll likely live close enough to work and a few shops that I won't need it for carrying people and cargo (just maybe a cute lass on a romp through the highlands and a couple small bags).

Selling the car to a friend: I've thought about keeping a car in the Bay Area (though this is where Miata MIGHT be the answer). Even after moving, I would still need to be in the Bay Area a few times a year for a couple weeks at a time. I have a coworker with a warehouse where he'll be parking his 1971 GTO once the restomod is done.
I pumped the brakes a little on my moving timeline until I can figure out the tax situation. I was lucky enough to join our company as a single-digit employee number so my stock will actually be worth something. I don't want to lose my shirt on taxes. I think it's still going to happen, but I'm waiting on the accountant's go-ahead first.
Autotrader.co.uk is the place in the UK to search for used cars.
One strange thing that I've noticed: Many of the cars I'm looking at are convertibles. Yet, I can't imagine many situations where the top would be down. It's simply too cold (the average high temperature in Glasgow in the summer is 65, in the Highlands it's in the 50s) and it rains 270 days/year. I don't think that changes anything, it's just an observation.
Their suggestions:
Evo...?
It's actually funny that they brought up the Evo. Despite owning a Ralliart, I never even thought to look at Evo's. Which I'm kind of dumbfounded about. It looks like the FQ-330 SST would be in my price range. That would be a pretty comfortable jump for me so it's definitely on the table.
GT86
£15k @ 30k miles - this is interesting. It seems like a safe option. As they said "shockingly practical". I think this might be too clinical. However, it would save quite a bit of money on emissions taxes.
S2000
£10k @ 34k miles - I think I need to sit in one of these. It's high strung - which I like but it's hard to imagine what it handles like from looking at it.
Things I've looked (online) at since my email on December 9th:

TVR Cerbera
If I were expand my budget up to £18k, I could get into a TVR Cerbera (4.2 Speed 6). I'm a wee bit afraid of these cars since it rains... basically all the time... in Glasgow. Out of the first 40 days I spent there last year, it rained on 38 of them. - including 21 of the first 21. BUT - the TVR is exotic looking, fast, and a heap of fun (dangerous?). It also has the benefit of always being broken.
Vauxhaul Astra VXR & Other Hot Hatches
2013 with 21k miles for £13k. It's 276bhp, fwd, and does 0-60 in 5.9 seconds. There are other great options around the same price. It's an interesting proposition and still fairly practical. Probably a blast around the highlands.
BMW Z4M
2007 with 55k for £10,500
Boxster S (987)

It can be had for under £12k with under 35k miles. Tempting. Tempting. But what's even more tempting is that you can find an 07+ (987.5) for £15k with 38k miles. That's got the newer 3.4L! A Cayman S can also be found for under £15k with around 50k miles. Hm - could there be Stuttgart in my future?
Lotus Elise (great minds think alike)
This is a tricky car to buy. in 2006, the 1.8 was replaced by a 1.8. The outgoing one was from a Rover (boo.) and the incoming one was from a Toyota Celica (okay). So from then on, it had 134hp. Except, there was a special edition called the 111S with 160hp which can be had for £14,750 with 40k miles. You might think that's the end of the story - but it's not. Because rolling off the exact same assembly line was......
Vauxhall VX220 / Opel Speedster
Which has a 296hp turbocharged 2.0L. Under £15k with under 35k miles. However, in handling tests, reviewers gave a slight edge to the Lotus. Though something tells me that can be fixed by swapping on Lotus parts (probably expensive?). How is that for some family drama?
Semi-Conclusion:
Ultimately - if I'm thinking with my heart, I think it comes down to Boxster S and Evo. Which is a super weird comparison. The Boxster is just a lot more car than the Elise. It's almost twice the horsepower, has some creature comforts, and that Porsche legacy.