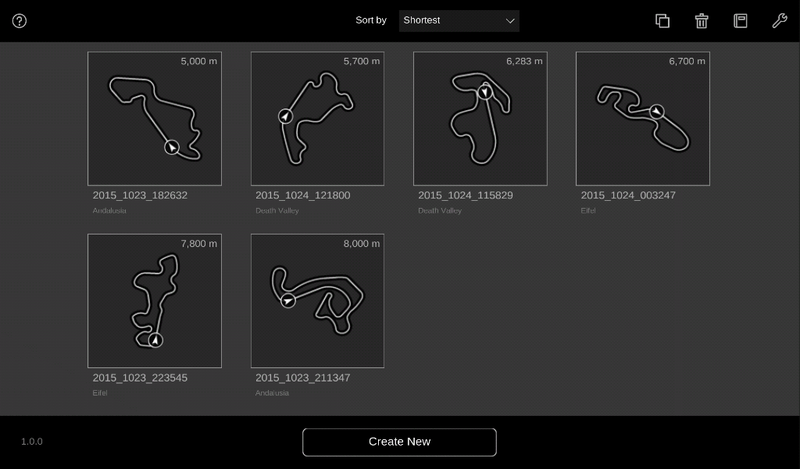 Look at all the circuits I won't be able to play unless I get a PS3 and GT6 (or borrow one). Three of the tracks are run counterclockwise, and only one of the rest has two usable DRS zones.
OK, so this one looks Tilkean, what with a tight turn after a long straight, but only slightly. The left-right follow-up after T1 is so fast, calling it a chicane doesn't give it justice. T4 is modeled after Lesmo in Monza, but slightly up-sized, while Sector 3 is willing to catch drivers out with blind pins.
Here's a bigger beast, set in Death Valley, although technically this will have to be in Kuwait. It's a narrow track at 6 meters wide, which imparts a sort of sinister vibe. One can hit upwards of 220 mph here before braking hard on T1, and from there aero setup becomes king in the high-downforce S1 and S2.
Hey look, there's no hairpin after a long straight on this one! At least, it's not the first corner. Rather, it's a big bend followed up by a sweeper, and a L-R-L section.
Here's my second favorite, not just because I got this track right the first time, but it just, you know, felt right. It has that flow that one may find in Spa, but is still as technical as I wanted it to be.
This one, however, I'm not to happy with, largely because of all the faffing about making the circuit. I've made excellent, fast, slow, technical bends and corners, but the end result feels... off. Or maybe I just don't like the way the circuit's line drawing looked like in the end. Looks like a Tusken Raider.
Now we turn to the track I really want to talk about, the one you see above. It's an immense, 8 kilometer beauty, built in a merger of two circuits, combining grace and ruthlessness with surgical precision and a perversion of a carefree spirit, in one intimidating yet rewarding circuit that has commanded respect from the most legendary of drivers.
The great Amphithéâtre bend opens every lap, luring drivers into flooring the throttle. They have however, to watch out for the second corner, the Aile Est. Only the brave dare take it at 180 mph and keep pressing on past T3 at the same speed, until one enters the first hairpin. A short straight leads up to the second pin, an upon exit, you've got to tighten up. Decisive moves for position are done on these corners, and only those that can hold the line all the way into T11 can open the taps and attack the challenging T12 into the flat-out back straight.
[Michael Schumacher set the highest top speed there in the lone F1 race held on the track, in 2002, reaching a top speed of 256 mph.]
This makes the double-apex Château corner essentially a hairpin, although one can still exit the turn at 190 mph into the Parabolique semicircle. On exit, a dogleg-left line leads to a fast 90-degree bend, the Sortie, and drivers can once again open the taps to begin a new lap.
————————————————————————-
Comments and critique are welcome. If you want to replicate them (please do), I'll post the photos with the modifiers in the comments section after some time. If you're willing to pay me a red HW LaFerrari, HW Porsche Series 918 and blue McLaren P1 in exchange for these tracks or as Secret Senna, let me know.