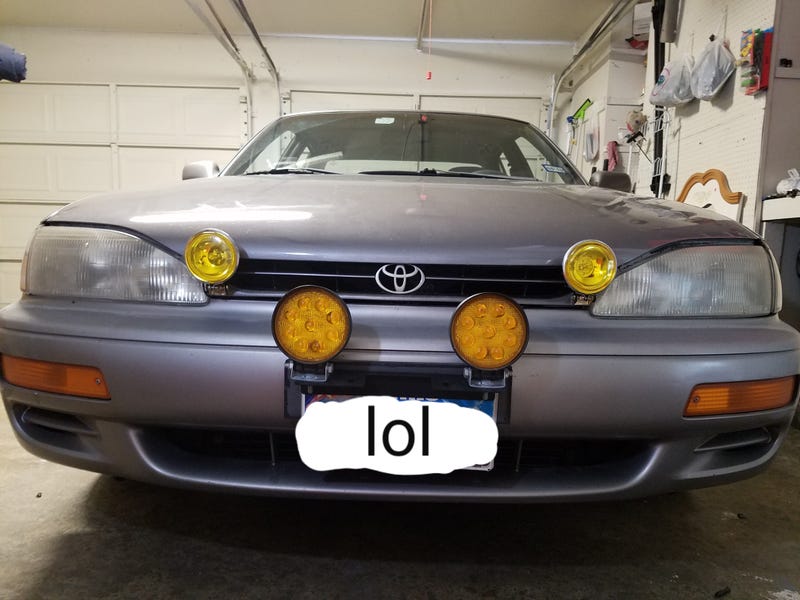 Now with more Group B radness!
Added some additional lighting. Full yellow 1600 lumen (each) auxiliary LED high beams plus yellow LED bulbs inside the OEM housing. Also, some yellow DRL's mounted on the grille.
Also......CANARDS!
ALL OF THE DOWNFORCE ARE BELONG TO ME!
Oh it gets better. Out with the OEM hub caps, in with the Group B!

Ah hellz yeah man!
Red OZ Racing decals for the wheels are on the way from eBay or Amazon when all of a sudden....
Just like the comments confirmed on Alanis' recent post on Jalopnik about Houston's roads, some meco-face anal wart in a beat up work truck with destroyed and expired paper tags cuts around me and rips my front end off. I didn't want to chase the truck because I was doing to then run over my own bumper. Again, the plates were all jacked up and couldn't make out what it said besides the date which was a month expired.
A brand new front bumper (Chinese brand) is about $40. Plenty in stock at a local body parts warehouse here.
Advanced Auto Parts sell the fender (yes, really) for about $45.
Besides a couple rattle cans of paint and wiring, I should get my $1000 Rally Rolls back in good shape cosmetically for about $130-ish. Still bummed but it could have been worse.